November 20, 2020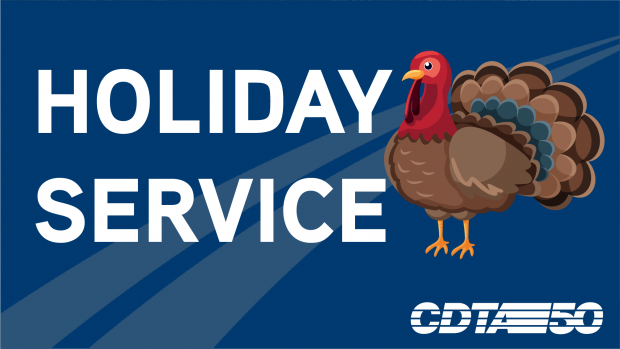 Service will operate on Sunday/Holiday Schedule  
ALBANY, NY (November 20, 2020) CDTA will be running Sunday/holiday service on Thanksgiving Day, Thursday, November 26, 2020. There will be no Northway Xpress (NX) commuter service. Regular weekday service will resume on Friday, November 27, 2020, including the Northway Xpress (NX).
Customers looking for more information about holiday service can call CDTA's Customer Service Center at (518) 482-8822. Customer Service Representatives are on duty 6:00am-7:00pm weekdays, 8:00am-6:00pm Saturdays and 8:00am-5:00pm on Sundays/Holidays.

Follow us on social media for the latest news and happenings at CDTA. You can follow the conversation on Facebook, Instagram, Twitter (@ridecdta) and LinkedIn.