November 23, 2010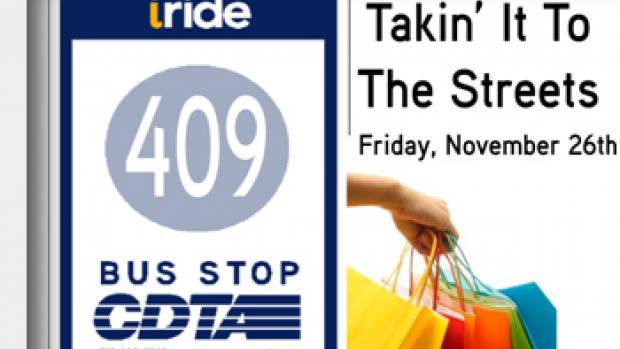 (Albany, NY) – The Capital District Transportation Authority (CDTA), Star 101.3FM and the Saratoga Springs Downtown Business Association will kick off the Holiday shopping season
with a "Route 409 "Taking It to the Streets" shopping excursion on a CDTA bus offering listeners the opportunity to take advantage heavy discounts and win free store gift certificates on Friday November 26, 2010.
"We're excited to partner with STAR 101.3 FM and the Downtown Saratoga Business community on a promotion to engage and educate riders about our new Route 409 service connecting Clifton Park, Malta and Saratoga," said CDTA Chairperson Denise Figueroa. "The promotion is a great way to kick off the Holiday shopping season and showcase Route 409 as a convenient and cost effective way to get to shopping destinations, jobs and services."
On Friday, November 26th, select downtown Saratoga businesses will offer discounts up to and including of 50% from 6am to 7am, 40% from 7am to 8am, 30% from 8am to 9am, and 20% discounts off the remainder of the day.  CDTA will pick up qualifiers from the STAR studios and travel Route 9 to downtown Saratoga at 6am to officially kick off the Holiday shopping season.
To get a seat on the CDTA excursion bus, STAR 101.3 FM listeners can call in for an on-air trivia contest about Route 409 service on the Morning Show with Ric Mitchell and Brianne Young. Listeners will continue to qualify through Wednesday morning, November 24th.
On Friday, November 26th, each qualifier and their guest will board the CDTA Route 409 bus at STAR studios and travel Route 9 to Congress Park in Downtown Saratoga to join in a live Morning Show broadcast.  All 36 riders will win free CDTA bus passes, enjoy breakfast courtesy of Malta diner, and have the chance to win an additional $500 in gift certificates from participating stores. A full list of businesses is attached.
CDTA's route 409 operates Monday through Friday, from approximately 6:30am -8:00pm, travelling between the Northway Exit 9 Park-N-Ride and Saratoga Springs serving neighborhoods, mobile home parks, apartment complexes, businesses, and shopping centers in Clifton Park/Halfmoon, Round Lake, Malta, and Saratoga Springs.
TAKIN IT TO THE STREETS SHOPPING EXCURSION
IN-STORE DISCOUNT PARTICIPANTS
Raina's Jewelry, 386 Broadway
Frivolous Boutique, 18 Division Street
Pink Paddock a Lily Pulitzer Via Shop, 358 Broadway
Impressions of Saratoga, 368 Broadway
Brindisi's Restaurant & Bar, 390 Broadway
Saratoga Guitar, 438 Broadway
Violet's of Saratoga, 482 Broadway
Clothes Line of Saratoga, 486 Broadway
Life is Good, 490 Broadway
Stella's of Saratoga, 494 Broadway
Saratoga Trunk
, 493 Broadway
Spoken Boutique, 27 Church Street
The Broadway Salon
, 445 Broadway
Rockabella, 441 Broadway
The Grey Gelding, 423 Broadway
Crafters Gallery, 427 Broadway