December 15, 2010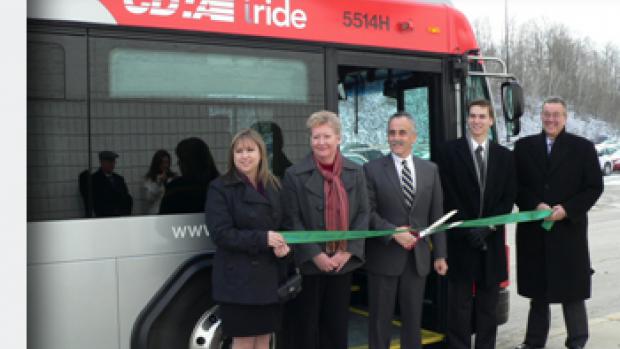 CDTA INTRODUCES NEW SHARED USE SCHENECTADY COUNTY PARK AND RIDE LOTS OFFERING 170 COMMUTER PARKING SPACES
 (Albany, NY) – Today, together with the Schenectady Chamber of Commerce, and Rotterdam Square Mall; the Capital District Transportation Authority (CDTA) introduced a new 100-space Park and Ride lot located behind Rotterdam Square Mall. This new lot along with the new Woodlawn Plaza Park and Ride lot located at the intersection of Route 7/Crosstown are established to provide free parking spots for bus riders, carpoolers, and vanpoolers to increase commuter accessibility and connectivity in the Capital Region. 
Both lots are available for use M-F 6:30AM to 7:00PM and are part of CDTA's plans to support BusPlus and express services scheduled to roll out in Spring 2011. BusPlus is an innovative approach to transit in the Capital Region that combines rail-like service with the affordability and convenience of bus service. Both Rotterdam Square and Woodlawn Park and Ride lots are located within ½ mile from a Route 5 BusPlus station. 
Acquisition of shared use Park and Ride lots are often a component in smart growth planning, and are part of CDTA's strategy to maximize access to public transportation, reduce parking lot development, infrastructure and maintenance costs, and support a livable sustainable future.   
There are close to 40 regional Park and Ride lots in the greater Capital District with 29 of them located in the 4-county region of Albany, Schenectady, Rensselaer and Saratoga. Additionally, 13 lots are located on CDTA bus lines, 9 of them with shared use agreements. CDTA continues to seek more shared use park and ride lots along Route 5 in support of BusPlus operations.  
Rotterdam Square Mall and Woodlawn Plaza Park and Ride lot programs were made possible through federal Congestion Management and Air Quality (CMAQ) funds, administered by the Capital District Transportation Committee.  
For more information regarding CDTA Park and Ride lots or BusPlus services visit www.cdta.org.