December 20, 2010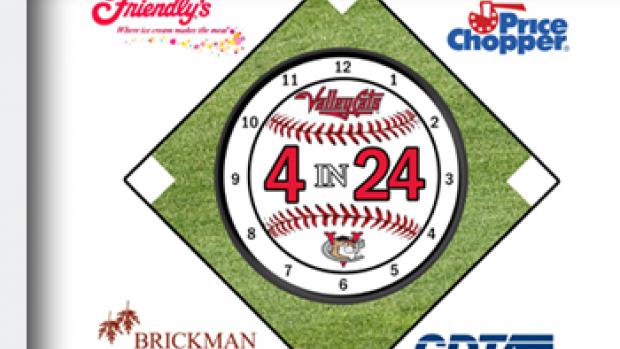 TROY, NY-As the Tri-City ValleyCats, Class-A affiliate of the Houston Astros, prepare to enter their 10th-season in the Capital Region, they've announced an ambitious project to renovate four youth playing fields in the course of a twenty-four hour time period.
The ValleyCats are teaming up with Friendly's, Price Chopper, CDTA and the Brickman Group to embark on the '4 in 24 Program.' The renovations will take place in early April of 2011, with work scheduled around the clock. In order to bring the selected fields to game ready conditions, each one will have new sod placed in their infield while also seeing their pitchers mound and homeplate areas re-built.
"Part of our corporate mission is to be ambassadors not only to the game of baseball but also to be community stewards. As we embark on our tenth anniversary season, our staff is extremely excited about the opportunity to really give back to the community," said ValleyCats Vice President/General Manager Rick Murphy.
The 'Cats are no strangers to undertaking field renovation projects. It has been an annual tradition since the program began with the restoration of a little league field in South Troy in 2003. Each year since, the ValleyCats organization has reinforced their mission to provide safe and well-maintained fields for youth sports organizations throughout the Capital Region. This task is equally valued by the proud partners joining the 'Cats in this expanded initiative. These participants will be contributing their time, money and effort to help aid in this endeavor. 
"Price Chopper has a long-standing history of supporting youth sports and recreation, as well as the Championship Tri-City ValleyCats organization. We are pleased and excited to carry on the tradition, and to encourage health and wellness via the great American pastime, by participating with the ValleyCats' unique "Four in 24!" Field Renovation Program in the neighborhoods where we do business," said Price Chopper Manager of Communications Pam Cerrone.
The 'Cats are also extremely excited to have Friendly's Restaurants participating in this project. "Much like Friendly's, Little League programs are an iconic part of America's heritage. Youth baseball plays such an important role in our community and builds teamwork, collaboration, and general goodwill among the Capital Region's youth," said David Bailey, Albany market manager, Friendly's Restaurants. "Friendly's is thrilled to serve as one of the founding partners with the Tri-City ValleyCats for the exciting '4 in 24' field renovation program. We look forward to being a part of this friendly gesture to revitalize and refurbish local baseball and softball fields and invite Capital Region families to join us this spring as we continue to create new traditions for their children who participate in youth sports throughout the area."
"CDTA is proud to team up with the ValleyCats because our mission is to keep our communities connected and improve the quality of life in the Capital Region," said CDTA Chairwoman Denise Figueroa.  "We always look for innovative ways to assist community development and the ValleyCats Extreme Field Makeover project is a wonderful opportunity to make a difference. CDTA is excited to participate and keep area youth safe and playing in a positive environment."
"Brickman is very proud to have partnered with the ValleyCats field renovation program for the past nine years.  We are excited to be a part of this great collaborative effort that the ValleyCats have taken to a new level and we are grateful to have great opportunities like the this as a way to give back to the community and help give our youth the best resources for success," said Brickman Group New York Regional Manager Phil Sexton.
The project will also be supported by the New York-Penn League Charitable Foundation. Contributions to the foundation have come from past events such as the Capital Region Craft Brewers Festival, hosted by the ValleyCats and Brown's Brewing Company, and the Financial Services Tournament which included teams from Capital Communications Federal Credit Union, Key Bank, First Niagara and the New York Business Development Corporation.
Leagues interested in having their field considered for this project must complete an application that can be found on the '4 in 24' page of the ValleyCats website. The deadline for submissions is January 28th. The chosen fields will be announced at a formal press conference on Thursday, February 10th.