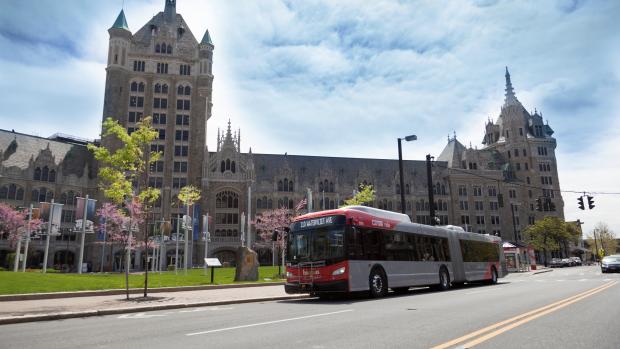 November 16, 2022
Final concepts and recommendations for transformative improvements throughout the Capital Region available for comment
ALBANY, NY November 17, 2022 – The Capital District Transportation Authority (CDTA) and the Capital District Transportation Committee (CDTC) invite community members and stakeholders to review and provide input on the final report of the Bus Lane Feasibility Study. The study is a culmination of work completed over the past 18-months by CDTA, CDTC, a Study Advisory Committee, various focus groups, residents, consultants, local elected officials, and municipal staff. The study evaluates the potential for bus priority treatments throughout the Capital Region.
Please visit the project website to view the report www.buslanestudy.com/final-report.
The purpose of this study was to investigate the feasibility, needed infrastructure improvements, and potential operating policies for bus priority within the CDTA's fixed route service area. The study considered bus only lanes, shared bus/parking lanes, shared bus/bike lanes, queue jumps, transit signal priority, and other enhancements in Bus Rapid Transit (BRT) and other transit corridors in CDTA's service area. The project was led by CDTA and the CDTC and facilitated by Foursquare Integrated Transportation Planning with assistance from M.J. Engineering and Land Surveying, P.C. and IBI Group.
Public engagement is a key component of the project and fundamental to the implementation and success of the study. There were multiple opportunities throughout the project for the public to learn about the study and provide input including an online survey, virtual public workshops, in-person pop-up tables, and the project website. The final study is the result of all these efforts, and we invite community members and stakeholders to review the final study and provide input and feedback.
Share your thoughts on the final report and get additional information about the project on the project website at www.buslanestudy.com or submit comments to cdtc@cdtcmpo.org. The comment period will be open until December 30th.
For more information about this and other important regional projects, please visit our website at www.cdtcmpo.org. If you have questions or comments, you can also email us at cdtc@cdtcmpo.org. Follow and like CDTC on Facebook, Twitter, and Instagram.