September 28, 2020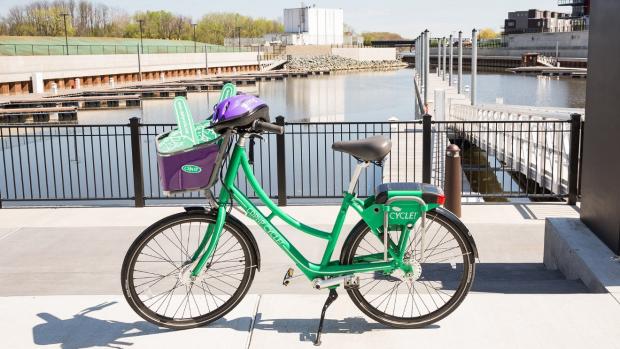 Program Seeing Highest Weekly Numbers Since Launch

ALBANY, NY (September 28, 2020) The Capital District Transportation Authority (CDTA) and CDPHP are pleased to announce that CDPHP Cycle! has racked up more than 20,000 rides since its launch on June 22. CDPHP Cycle! is now on pace to reach 35,000 rides before the end of the season in November, in addition to boasting more than 17,000 all-time members. The program saw its highest ever week of ridership in late August with nearly 3,000 trips on the strength of new Cycle! Access partners, including the University at Albany, Tru by Hilton Albany Airport hotel, and The Desmond hotel.
COVID-19 Precautions
The onset of COVID-19 delayed the launch of CDPHP Cycle!, but with enhanced safety and sanitary precautions, and an increased demand for outdoor activities, CDTA and CDPHP eased into the 2020 season. Bikes first launched in areas near parks and trails for recreational riding and are spaced out at racks to allow for easy access and proper social distancing. Cleaning and disinfecting measures are ongoing, and each bike is equipped with hand sanitizer for riders to use before and after riding.
CDPHP Cycle! continues to recommend that riders follow guidelines provided by the Centers for Disease Control and Prevention and the World Health Organization to prevent the spread of disease.
"CDPHP Cycle! has been a much-needed activity for the community," said CDTA CEO Carm Basile. "Our team has redesigned the operations plan, complete with a rigorous cleaning and disinfecting process and methods to reassure customers they are safe and secure when using our bikes. With these updates, the public has and continues to safely enjoy this service and bike throughout the Capital Region."
"I'm thrilled that CDPHP Cycle! has been a physical and mental health outlet during these difficult times," said President and CEO of CDPHP, Dr. John D. Bennett. "I continue to encourage everyone to give some thought to driving trips you can replace with cycling instead. Your heart – and your mind – will thank you!"
Capital Walls Mural Bike Tours 
On Sunday, September 27, riders explored the vibrant Capital Walls murals in downtown Albany as part of the 2nd Annual Capital Walls: Mural Bike Tours. The three-hour guided tour included a free helmet, stickers, local food to-go, and more. A second tour will be held on Sunday, October 11 at 11 a.m. following the same format. More information can be found at https://albanycentergallery.org/index.php/events/2nd-annual-capital-wall...
New, Improved Fleet
The CDPHP Cycle! fleet of 340 bikes will get a boost with the addition of a new bicycle model. These new bikes are more durable and provide better connectivity to system software. The addition of these newer models will grow the total number of bikes to nearly 500 for next season, giving members even more riding options. The new bikes will hit the streets in early October.
Get out and Ride!
Riders may purchase a membership or load a pay-as-you-go account by registering online or downloading the CDPHP Cycle! mobile app. You pay for what you cycle, which comes out to just $0.08 per minute with an hourly pass. For more information, including additional rental fees, rack locations, and more, visit www.cdphpcycle.com
The CDPHP Cycle! season is expected to end on November 30, 2020 and resume on April 1, 2021. Dates are subject to change.