January 26, 2022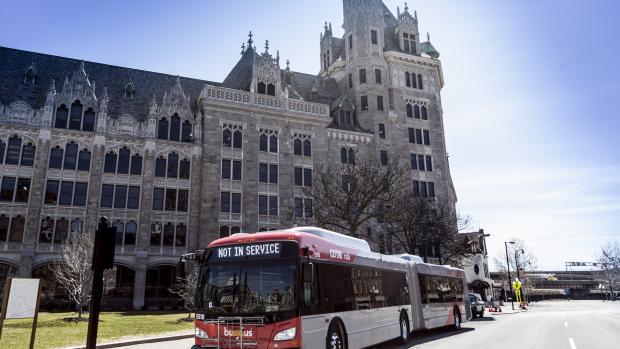 Through a year of transition, CDTA aligned its strategic planning with community needs to move major projects forward and introduce new mobility options for the region.
ALBANY, NY (January 26, 2022) The Capital District Transportation Authority (CDTA) is expanding services to drive economic development and connect people across the region in 2022. CDTA looks forward with accomplishment and pride in the work that has been done and initiatives under way to keep the Capital Region moving forward. The following is a look at CDTA's accomplishments over the past year and a window into what 2022 has in store.
GROWING FOOTPRINT – The Montgomery County legislature approved a resolution to join CDTA's service area. Advocates at the local, state, and federal level are working to bring mobility to the residents, businesses and schools of Montgomery County. Operating plans are being developed and we continue to work with business partners throughout the county to start service in 2022.
CDTA STAYS STRONG – As the COVID-19 pandemic stretched into its second year, CDTA continued its frontline work getting people to testing and vaccination sites. We transported people from Albany, Rensselaer, and Schenectady Counties by bus and trolley. That work started at home with 85% of all CDTA employees being vaccinated, the addition of new UV cleaning systems across our entire fleet and onboard mask dispensers for customers.
MORE MOBILITY, PLEASE – CDTA continued to grow its mobility options last year with the addition of SCOOT, the first fully electric scooter pilot program. Our FLEX On Demand program expanded to Clifton Park, Halfmoon and Mechanicville and CDPHP Cycle! bike sharing program shattered previous highs with a record-breaking 70,000 rides taken in 2021.
RIDERSHIP REBOUND – Our system has been fortunate to see a quicker rebound than most, fueled by our progressive plan to connect people. Fixed route ridership is approaching 80% of pre pandemic levels, driven by our growing Universal Access partnerships. Our paratransit service known as STAR is operating at the same levels it was pre pandemic.
UA KEEPS EXPANDING – CDTA continued to grow its partner base with the introduction of the OGS state workforce, Stewart's Shops, Schenectady High School, Latham Pool Products, and other new clients joining the Universal Access program. As the workforce transitions, we have been able to provide value for a growing list of clients that offer employees or students complimentary access to a variety of CDTA transportation options.
BUS PLUS IN BLUE – The second of three planned BRT lines rolled out in November of 2020. The BRT Blue line features improved infrastructure including heated sidewalks, transit signal priority and crossings. New vehicles offer charging ports and colorful destination signs to help enhance the riding experience. The third BRT, the Purple Line, is expected to be operational in 2023.
EXPANDING NORTH – CDTA expanded its services to the north with a new partnership to bring CDPHP Cycle! to Warren County. CDPHP Cycle! includes new racks in Glens Falls, Lake George and Queensbury. More than 1,000 bike rides were taken this season. CDTA worked with Greater Glens Falls Transit to support their summer trolley operations in a new partnership between the two agencies.
PLANNED STRATEGY – A new strategic plan was adopted and aligned our work to the newly designed core pillars. The plan outlines steps CDTA will take as an innovative mobility provider that connects our communities, our people, and our economy. A new mission statement is a reminder of who we are, what we do and why we continue to see gains in our system: CDTA provides mobility solutions that connect the region's communities
ALL ABOARD FOR NEW PROGRAMS! – Several local partners came together, led by the Mohawk Hudson Land Conservancy, to provide a free bus service connecting the City of Albany to scenic outdoor destinations in Albany County. The Nature Bus, which launched in June 2021, brought residents to the Pine Hollow Arboretum, Thatcher Park and Five Rivers. That program was joined by Schenectady's Greenmarket Trolley, which piloted service bringing residents from nearby communities to the weekly market which provides fresh food options and local goods.
CDTA GOES FOURTH IN PINK – Our annual Pink Bus Pull highlighted CDTA's support for the American Cancer Society's Real Men Wear Pink campaign. Essential workers and community leaders brought teams together to raise over $10,000 for the campaign. Two pink buses roamed the Capital Region streets to support one of the nation's top RMWP fundraising campaigns.
READY FOR OUR CLOSE UP – We completed a renovation and expansion at our Troy Division designed to support our new BRT Blue Line. This included updated workstations, employee locker rooms and new exterior signage. Our Albany Headquarters has new pedestrian infrastructure, expanded employee parking facilities and a garage addition to support the Washington-Western BRT Purple line.
DRIVING YOUR CAREER – CDTA hosted a handful of career fairs for individuals inspired to join our team of 750 employees. A timely hiring push brought out dozens of applicants who had the opportunity to test drive our fleet and take part in on-the-spot interview sessions. While continuing to provide the Capital Region with premiere transit service, being nimble and open to change will be essential to our mission moving forward.
HONORING ESSENTIAL WORKERS – CDTA and Albany Medical Center recognized the contributions of essential workers with a ceremony to highlight individuals from both organizations who have delivered exceptional community service through the duration of the pandemic. A partnership between the two has allowed Albany Medical Center workers and students to ride buses and use the CDPHP Cycle! program for free.