April 09, 2021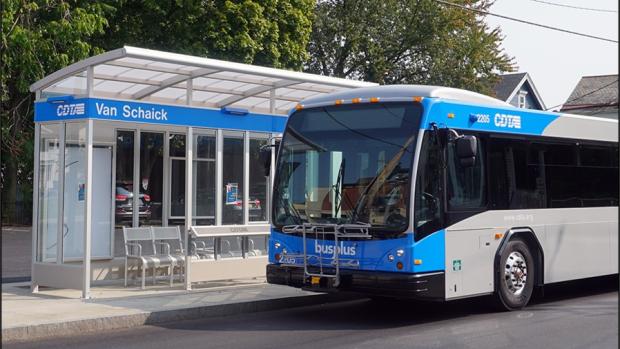 Changes go into Effect on Sunday, April 25
ALBANY, NY (April 9, 2021) CDTA will make a series of minor changes to adjust service to demand. All changes will be effective on Sunday, April 25, 2021. 
CDTA continuously evaluates our route network to make sure it is efficient and responsive to the needs of the region. As ridership has fluctuated throughout the pandemic, CDTA has adapted to a changing landscape, providing critical connections to essential services, business and employment.
The April changes are focused on several trunk services with frequency adjustments being the main theme. Routes not listed will continue to operate with the same service levels, including NX and express lines. 
Service Enhancements:
Route #22 (Albany - Troy) –

Frequency on Sunday night improved to 35 mins between 7:00 pm and 12:00a

m
Service Reductions:
Route #22 (Albany - Troy) –

Northbound service to end earlier; now 1:15am. Service frequency reduced on weekdays to every 15-20 minutes and every 30 minutes on weeknights.
Route #85 (Waterford – Troy)

– Service frequency reduced on Sunday to every 45 mins between 9:30am and 8:00pm.
Route #87 (Troy – Brunswick Plaza)

– Service frequency reduced to every 25 minutes on Saturday between 9:30am and 11:30am and Sunday between 8:00am and 5:00pm.
Routes #922 & #923 (River Corridor BRT) –

Northbound service to end on weekdays and Sunday 20 minutes earlier.
Timing Adjustments: Trip start times will be modified starting on April 25th, please check schedules to verify arrival and departure times.
Route #12 (Washington Avenue)

Route #13 (New Scotland Avenue)

Route #18 (Delaware Avenue)

Route #22 (Albany – Troy)

Route #100 (Mid City Belt)

Route #85 (Waterford – Troy)

Route #87 (Troy – Brunswick Plaza)

Route #107 (Albany Glenmont)

Routes #922 & #923 (River Corridor BRT)

April 25, 2021 SERVICE CHANGES
| ROUTE | DESCRIPTION | SCHEDULE | ALTERNATIVE |
| --- | --- | --- | --- |
| 12 | Central Avenue | X |   |
| 13 | New Scotland Avenue | X |   |
| 18 | Delaware Avenue | X |   |
| 22 | Albany / Troy via Watervliet | X |   |
| 85 | Fifth Avenue | X |   |
| 87 | Hoosick St & RPI | X |   |
| 100 | Mid City Belt | X |   |
| 107 | Albany / Glenmont | X |   |
| 233 | Albany / Schodack | X |   |
| 288 | RPI Uptown Shuttle | X |   |
| 353 | Scotia/Mont Pleasant | X |   |
| 354 | VIA | Port Rotterdam/Nott Street | X |   |
| 801 | Albany Shuttle | X |   |
| 803 | North Albany Shuttle  | X |   |
| 804 | Arbor Hill \ West Hill Shuttle | X |   |
| 805 | Midtown Shuttle  | X |   |
| 806 | Delaware Shuttle  | X |   |
| 922/923 | BRT Blue Line  | X |   |