October 28, 2020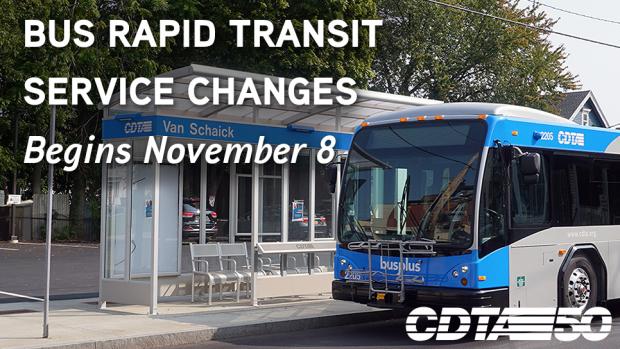 Changes Effective Sunday, November 8, 2020 
 

ALBANY, NY (October 28, 2020) - CDTA will launch its second Bus Rapid Transit along the River Corridor on Sunday, November 8. The service which is known as the "Blue Line" will connect communities along the Hudson River with limited stop service that looks and feels like rail service on wheels. It is the second leg of CDTA's three-line BRT network.
The Blue Line will offer free rides during the month of November so customers can get acclimated to the route network changes and benefits of the new service. Blue Line customers will enjoy fewer stops, faster service and more connections while travelling the 16-mile route between Waterford, Cohoes, Lansingburgh, Troy, Watervliet, Menands and Albany.
In addition to the enhanced service, CDTA has made significant infrastructure improvements along the corridor to benefit transit customers, pedestrians, and motorists. This includes new stations with the newest technology, miles of new sidewalks with heated sections near waiting areas, new crosswalks and upgraded signal systems. CDTA also refurbished its Troy facility to house and service the new buses that will run along the River Corridor. 
The new line is color coded in silver and blue, making the corridor and the service very distinctive. New buses will travel along the corridor and they will be coordinated with our local services. Customers can review the Blue Line details and other route changes along the corridor at www.cdta.org/brt, by calling CDTA's Customer Service Center at (518) 482-8822 or join the conversation on social media via Facebook, Twitter or Instagram.

November 8, 2020 SERVICE CHANGES
| ROUTE | DESCRIPTION | SCHEDULE | ALTERNATIVE |
| --- | --- | --- | --- |
| 1 | Central Avenue | X |   |
| 12 | Washington Avenue | X |   |
| 22 | Albany/Troy via Watervliet | X |   |
| 85 | Fifth Avenue | X |   |
| 87 | Sycaway/Beman Park | X |   |
| 106 | Uptown Belt | X |   |
| 107 | Albany/Glenmont | X |   |
| 182 | Troy-Albany via Cohoes/Latham | X |   |
| 522 | Hudson River Express | X |   |
| 922/923 | BRT - Blue Line | X |   |
| 813 | Ravena Shopping Shuttle | X |   |
| 815 | Troy Shopping Shuttle | X |   |
| 821 | North Greenbush Shoppers Shuttle  | X |   |
| 830 | Schenectady Shopping Shuttle | X |   |