Here you will find common questions we receive about CDTA's on-line applications and Tips and Shortcuts about filling out applications on line. Please if you have any comments or further questions not covered here do not hesitate to contact:
Human Resources
Phone: (518) 437-8300
Email: Human Resources
Does CDTA accept any paper applications?
No we do not. In an effort to be more eco-friendly we will no longer be accepting paper applications.
What happens after my application is submitted on-line?
After your application has been submitted, it will be reviewed by the CDTA Human Resources Department. If your credentials meet our needs we will contact you for an interview. Please do not call us to check on your application. If we are interested, we will contact you directly.
Once I apply how long do you keep my application?
Your application is considered active for a period of one year. If after one year, you have not been contacted by us, and if you still wish to be considered for employment, you should complete another application.
I filled out the application and clicked the submit button, but it did not go through?
The application is validated before it is submitted. If the application did not go through this usually indicates that the validation failed and there are errors in the application. An error can either be missing information or that one of the fields was not understood like a date. If you scroll to the top of the application you should see the Errors list in Red. It will look something like this:

The following is a list of common issues that can occur and how to correct them.
Missing Required Fields:
There are many fields within the application that are required to ensure that these are all filled out. Here is a list of required fields.
Contact Information
Last Name
First Name
Address
City
State
Zip Code
Home Phone
Social Security Number
Special Qualifications
Years of Driving Experience
Drivers License Class
Work History
Current Employer (at least one reference is required)
Start Date
City
State
Job Title
Reason for Leaving
There are also many fields within the application that need to be in a specific format. Here is a list of the types of fields and examples of how it should be formatted.
Dates
All dates must be in the format MM/DD/YYYY, for example 01/01/2010. If you do know the exact day of then simply use the first day of the month.
Phone Numbers
All phone numbers must in the format include the area code and be in the format ###-###-####, for example 518-123-4567.
Dollar Amounts (Salary)
All dollar amounts should be in the format ##.##, for example 19.50. If you are entering a Salary only enter in the dollar amount, do not include things like "per hour or /hr" with the dollar amount.
I applied for one open position at CDTA, how can I apply for multiple positions without filling out another application?
After you submit an application to CDTA you have the ability to log back into the site and apply for more open job opportunities without having to fill out another application. Follow the instructions below to log on to the site and "Apply" for another job opportunity using your existing application.
How do I log on to the site to apply for another position or update my application?
To log on to the site go to the following web site in a browser: Employment Opportunities
At the top of the page click on the log in here link as can be seen in the image below.

Once you click on that link you will see the following screen and be asked for the following information from your application to log on.
First Name
Last Name
Last four digits of your Social Security Number
Zip Code
Validation Numbers (you will see this above the)
Once you enter this information click on the Log In button.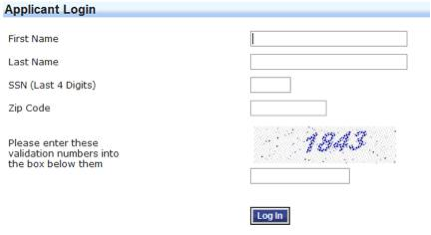 Once you have successfully logged in, you will go back to the main employment opportunities page and you should now see your name in the upper right hand corner.
I have logged into the site how do I apply for another position or update my application?
Once you have logged into the site (see the question above for information on how to do this) you can now update your application or apply for other positions. To do this click on the "Applicant Profile" menu option on the left hand side, see the image below for where this is.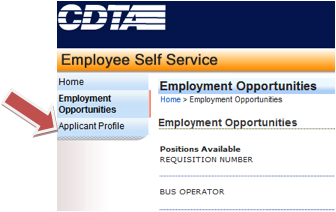 From this page you will then be able to update your information. Click on the section of the application you would like to change, this includes General Information, Eligibility and Status, Education, Work History, Skills, Certifications and Licenses, References, Attachments and Custom Codes. A change link will be next to the information you can edit see the image below for an example.

From this page you can also apply for other open position at CDTA; scroll to the bottom of page. You will see a listing of current job opportunities and an "Apply" link will be listed next to positions you have not applied for previously.