Get to Know Your Bikeable Bus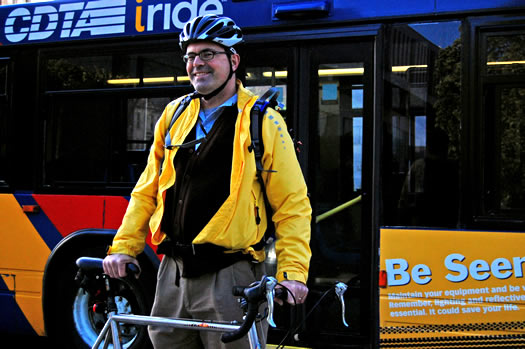 You can bus-and bike with CDTA on all CDTA routes throughout the region.
Sturdy, easy-to-use bike racks on the front of the Bikeable Buses offer all riders an environmentally sound, healthy and fun way to get around.
Learning how to use bike racks is safe and easy.
Expert New York Bicycle Coalition member Claire Nolan shows you how in this short training video. Bikeable Bus How To
Bikable Buses Are for Everyone!
Commuters
Bike to work easily with a little help from your favorite bus. You can now ride in part way and get a lift through town, or bus in and bike home. The Bikeable Bus is a great way to build a workout into your work day.
Cyclists
Get out to your favorite recreation areas with energy to burn. the Bikeable Bus can take you to new places that were previously out of range, and can make your rides safer and more relaxing.
Students
Get wherever you need to go, and have the freedom of your own wheels when you get there. The Bikeable bus is a great option to have if you're ever caught in bad weather too.
How to Catch Your Bikeable Bus

Bikeable Buses run on all CDTA routes, at regular intervals. Be sure to show up on time and ready to go. All CDTA buses are equipped with bike racks.
Each Bikeable Bus can hold two bikes, and will accommodate adult and children's bikes (excluding tricycles and tandem bikes.)
Availability is on a first-come-first-served basis. If the rack is full, don't worry; another Bikeable Bus will be on its way shortly!
How to Load & Unload Your Bike

For safety reasons, the bus operator can't get off the bus to help you, but he or she can assist you with verbal instructions, and there are simple directions posted by the racks as well. Children under 12 can use the rack when traveling with an adult.
How to Load Bike*
As the bus approaches, have your bike ready to load. Remove water bottles, pumps, child carrier seats or any loose items that might fall off.
Wait until the bus has come to a complete stop. Signal to the driver that you will be loading your bike.
Make sure to always load and unload your bike from the curb side. Do not stand in or near oncoming traffic.
Always load the bike back of the rack first. To release the rack, squeeze the center handle and slowly lower it.
Place your bike in the wheel well, making sure the front wheel is placed on the side labeled "front wheel."
Pull up and out on the support arm and hook the arm securely over the front wheel.
How to Unload Your Bike
Tell the driver that you will be unloading your bike before you approach your stop.
Raise the support arm off the tire. Move the support arm down, out of your way.
Lift your bike out of the rack.
Fold up the bike rack if there is no other bike in the rack.
Move immediately to the curb.
Wait for the bus to pull away before you get ready to ride.
If you forget to retrieve your bike, or the driver pulls away before you've unloaded it, please call our lost and found office at (518) 437-8300.
If you have questions about your bikeable bus route or need trip planning assistance, please call our information center at (518) 482-8822.
*CDTA is not responsible for any damage to the bike while in the bike rack. Bike rider assumes all responsibility.
Ride Safely

Capital Coexist - This useful website has lots of information about riding safely with cars and driving safely with bikes. It also has a timely news and events calendar.