July 27, 2017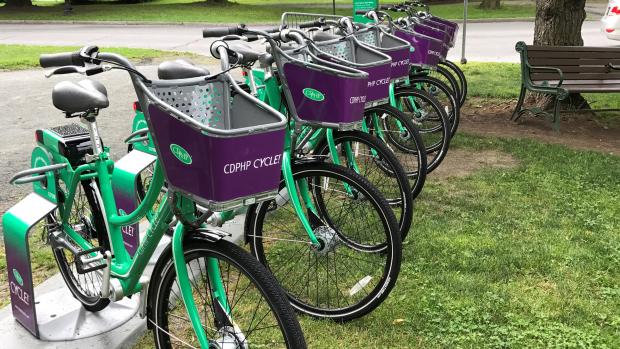 CDTA and CDPHP Partner to Bring Bike-Share Program to Albany, Schenectady, Troy, and Saratoga Springs
ALBANY, NY (July 27, 2017) The Capital District Transportation Authority (CDTA) and CDPHP officially launched CDPHP Cycle!, the Capital Region's first bike-share program. CDPHP Cycle! features 160 bikes distributed among 41 bike stations in Albany, Schenectady, Troy, and Saratoga Springs. The program offers the community a healthy, affordable, and fun mode of transportation.
"This is an exciting day for CDTA and the community," said David M. Stackrow, CDTA Board Chairman. "Through CDPHP Cycle!, we are proud to offer another mobility option that helps residents explore the region. CDPHP is a great partner and supporter, and we are looking forward to this next chapter."
"While CDPHP and CDTA have very different business models – health insurance and transportation – we were both born and raised in the Capital Region, and share in our commitment to the health and economic vitality of this region," said President and CEO of CDPHP, John D. Bennett, MD. "The health benefits of biking are undeniable and I encourage everyone to replace a short driving trip with a CDPHP Cycle! ride at some point during the inaugural season!"
The popularity of bike-share programs has risen in recent years thanks to its success with connecting residents and tourists with local businesses. CDPHP Cycle! aims to attract new individuals to the area and showcase the Capital Region as an ideal place to live, work, and be entertained.
"This bike-share program is a great opportunity for residents and visitors to explore our communities and is an excellent alternative mode of transportation that supports a healthy lifestyle," said Assemblymember John T. McDonald III. "Congratulations to CDTA on this partnership and thank you to CDPHP for their support and for continuing to encourage healthy living."
"I am thrilled to see this partnership between two prominent regional institutions, CDTA and CDPHP, that will bring another exciting mode of transportation to the Capital Region," said Assemblymember Patricia Fahy. "Bike shares are growing in forward-thinking cities all over the world, and this new healthy and environmentally-friendly transportation option will link some of the area's most exciting destinations in the four major cities. I'm looking forward to my first ride!"
"CDTA has been promoting heathier lifestyles and a healthier community for years through its bikeable bus program and now the first regional bike-share program," said Albany County Executive Daniel P. McCoy.  "We're reducing our carbon footprint for a greener environment and engaging in healthy, physical activity. Thank you to CDPHP and CDTA for teaming up to make CDPHP Cycle! available in the Capital Region."
"With 20 bike-sharing locations throughout the city of Albany, the CDPHP Cycle! bike-sharing program provides an additional component to our city's growing transportation system," said Albany Mayor Kathy Sheehan. "Thank you to CDPHP and CDTA for coming together to make this program a reality and providing another opportunity for residents and visitors alike to enjoy our bike-friendly city."
"This is truly an exciting moment for the Capital Region," said Paul Winkeller, Executive Director of the New York Bicycling Coalition. "CDTA and CDPHP joining together to launch a brand-new and ambitious bike-share program is truly an enlightened partnership. Green transportation, active living, increased mobility, better air quality - what's not to admire about this effort to get more New Yorkers on a bicycle as part of a safe, shared, and more multi-modal transportation system!"
"I commend CDTA and CDPHP on this partnership to bring bike sharing to the Capital Region," said President and CEO of the Capital Region Chamber, Mark Eagan. "This program benefits our economy and ecology, as well as personal health."
"The businesses of Central Avenue are thrilled and want to extend their gratitude to everyone who is working together to develop and implement a plan that brings bike-share stations to our area," said Central Avenue BID Executive Director, Anthony Capece. "CDPHP Cycle! will bring a new level of mobility to the capital city area, as well as the opportunity for economic growth as a more geared up city!"
Riders may purchase a membership or load a pay-as-you-go account by registering online or downloading the CDPHP Cycle! mobile app. For a limited time, bicyclists can purchase a CDPHP Cycle! founding membership and ride 90 minutes a day for two years for just $105! For more information, including rental fees, rack locations, and more, visit www.cdphpcycle.com.