August 31, 2018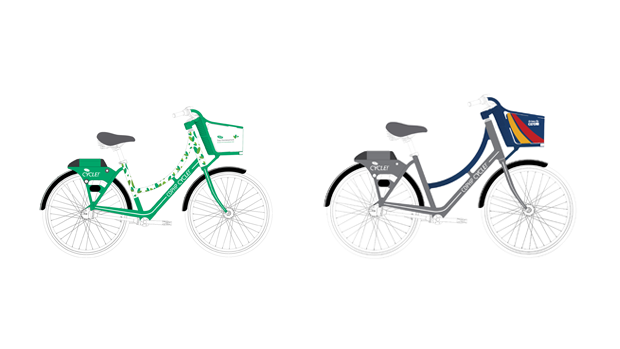 Can you find all six bike designs? Ride proceeds to benefit CDPHP The Foundation
ALBANY, NY (July 18, 2018) Capital District Transportation Authority (CDTA) and CDPHP announced today the addition of 12 specialty bikes to the CDPHP Cycle! fleet of 350 spanning Albany, Schenectady, Troy, and Saratoga Springs. The bikes – dubbed 'unicorns' – feature designs that promote the partnering companies' products and services, including:
Bike designs will be rolled out throughout each of the four cities CDPHP Cycle! serves over the next three days. Riders are encouraged to find unicorns and snap photos with them tagging @CDPHPCycle and using the hashtag #cdphpcycleunicorns. For every unicorn bike ride taken during the rest of the CDPHP Cycle! season, CDTA will make a contribution to CDPHP The Foundation. In addition, Rose & Kiernan, Inc., an insurance agency that works closely with both CDTA and CDPHP, has agreed to match contributions up to $1,000.
"I'm thrilled that CDTA and Rose & Kiernan, Inc., have committed to supporting CDPHP The Foundation in such an entertaining and creative way," said John D. Bennett, MD, president and CEO of CDPHP. "CDPHP The Foundation prides itself on supporting and promoting health, wellness, education, and cultural vibrancy in our community through philanthropy and service. I encourage everyone to get out there and take as many unicorn bike rides as possible!"
"This is an exciting addition to CDPHP Cycle!," said CDTA Board Chairwoman Georgie Nugent. "We're looking forward to seeing all of the unicorn bikes out on the streets and engaging our Capital Region customers in this fun and philanthropic way. Customers will not only have the opportunity to ride a unique bike around town, they will help to support CDPHP The Foundation which will give back to our community in so many ways."
Register for a CDPHP Cycle! account today at www.cdphpcycle.com. CDPHP members are entitled to a 20 percent discount on all purchases for the entire 2018 riding season.