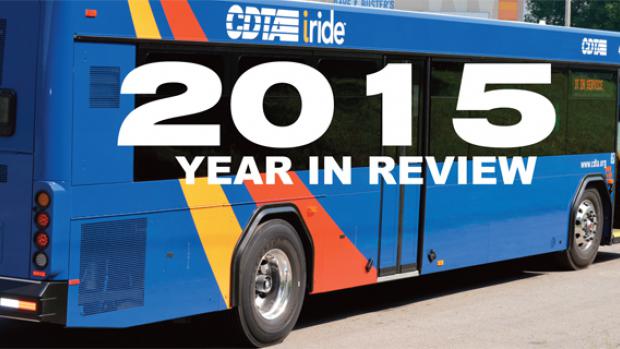 December 31, 2015
YEAR IN REVIEW: COMMUNITY DRIVEN
Strong Ridership, Growing Community Partnerships & Driving Economic Development
ALBANY, NY (December 31, 2015) The Capital District Transportation Authority (CDTA) continued its strong performance connecting the Capital Region to work, play and what matters throughout 2015. CDTA's ridership remained at or near record levels with progress made on key projects and system upgrades that will give back to the Capital Region for years to come. The 2015 calendar year will see just over 17 million boardings, while the fiscal year ends March 31st.
"It's been a successful year on many fronts," said CDTA Chairman of the Board David M. Stackrow. "We remain committed to providing top-notch service for our customers and community partners. This has been accomplished by staying true to the spirit of CDTA, which is one of partnership and innovative services. We look forward to new opportunities in the New Year which are focused on developing transit centers and the rollout of our Navigator program."
The following is a look back at some of the top CDTA stories of the year:
10) LOUD AND CLEAR – CDTA's Board of Directors approved the purchase of a new state-of-the-art radio system that will modernize the way operators, supervisors, and managers communicate. The system is made up of advanced technologies that will improve service safety, reliability, and efficiency for CDTA's fleet and transportation personnel. CDTA received $18.8 million dollars to upgrade the system through the first ever federal TIGER (Transportation Investment Generating Economic Recovery) grant award for the Capital Region.
9) FALLING FOR FALL – CDTA's community programs were bigger than ever in 2015. CDTA hosted a "Fall Festival" at our administrative headquarters where we opened our doors to the community with tours, demonstrations, and themed activities. The building was transformed with pumpkins, corn stalks, and scarecrows, a live band, hayride, and community demonstrations from the Albany Police and Fire Departments, New York State Police dive team and the Albany County Sherriff.
8) MAJOR MILESTONE – CDTA commemorated the 25th anniversary of the Americans with Disabilities Act of 1990 (ADA) in July. CDTA's Special Transit Available by Request (STAR) paratransit service offers transportation alternatives to people whom cannot use, or have substantial limits using, the regular route bus system because of a disability or impairment. STAR has actually been in operation longer than the ADA requirements and provided nearly 300,000 trips last year alone.
7) LET'S MAKE A DEAL – CDTA's Board of Directors approved a new three-year contract for CDTA's unionized workforce in December. The agreement between CDTA and the Amalgamated Transit Union Local 1321 provides improvements to wages and benefits, while providing appropriate oversight regarding work assignment and service quality. Nearly 600 union-represented employees will be covered by the contract, which will run until June 2018.
6) ARTICULATING NEED - A new kind of bus hit the Capital Region streets earlier this winter. The return of articulated or "bendable" buses will enhance the customer experience through expanded capacity and upgraded amenities. Demand on many of CDTA's busiest trunk routes dictated the need for the increased capacity. The first two buses have been in operation since November with up to 12 more available for purchase over the next five years. This is the first time since 1984 articulated buses have been in the Capital Region and they will be used on our highest volume routes.
5) IT'S A PINK THING – CDTA partnered with the American Cancer Society to raise awareness and much needed funds for Breast Cancer Awareness month. CDTA turned one seat pink on each of its BusPlus buses as a way to bring attention to the disease during October. We raised donations in house with pink hair extensions and provided transportation for the Making Strides walk in Albany's Washington Park. The event included a number of CDTA employees who walked for the cause.
4) CREDC FOR CDTA – CDTA earned its first Regional Economic Development Council Award when Governor Cuomo announced the winning projects in December. The list of awards included $650,000 to begin building the Uncle Sam Transit Center, which will improve services, connections and visibility in Downtown Troy. The new transit hub will be in a corner of the Uncle Sam Parking Garage serving nearly 4,000 customers daily with a projection of 1.2 million annual boardings.
3) FINALLY! – President Obama signed a five-year transportation infrastructure bill in December that will invest $61 billion in our public transportation systems and authorizes more than $300 billion in infrastructure. CDTA and other New York systems braced for a funding cut because the original House version of the bill would have ended the High Density States Program. A group of negotiators led by Senator Chuck Schumer restored the funding before the bill's passage. The Fixing America's Surface Transportation Act is the first fully-funded, long-term surface transportation bill in 10 years.
2) NAVIGATING SMARTLY – The design and branding of our new prepayment system, Navigator, debuted at the 'State of CDTA event' in February. Navigator offers customers smartcard and mobile ticketing options when fully deployed. The new long-term smartcards will last up to three years and have online reloading capabilities for greater flexibility. Customers will also be able to board CDTA buses quickly with a mobile ticketing application on their smartphones. Navigator pilot testing began in November with a larger public pilot scheduled for early 2016.
1) REALLY UNIVERSAL – Our Universal Access program saw significant growth in 2015 as the Capital Region business community took notice in larger numbers. We added the innovative SUNY Polytechnic Institute at the end of the summer. The region' largest employer, Albany Medical Center, began a pilot program in late fall and the Albany Public Library joined the UA ranks to provide unlimited access to our route network for their employees.