January 25, 2023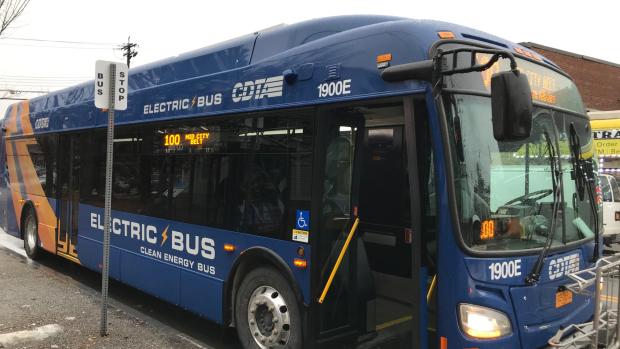 CDTA focuses on community needs to introduce new mobility options
ALBANY, NY (January 25, 2023) The Capital District Transportation Authority (CDTA) continues to expand services to drive economic development and connect people across the region. CDTA employees are proud of the work that has been done to keep the Capital Region moving forward. The following is a look at CDTA's work over the past twelve months:
RIDERSHIP REBOUND

– Fueled by our progressive plan to connect people, our system is seeing a quicker rebound than most. CDTA ridership total are more than 85% of where ridership was pre-pandemic. This recovery is fueled by an efficient route network and quality service. Partnerships throughout the region have also continued to grow. Through December, there have been more than 10 million rides on the CDTA system as the region's residents use CDTA to travel for work and pleasure.
UNIVERSALLY APPEALING

– CDTA is growing its partner base with 35  The Downtown Albany Business Improvement District, the Blake Annex, the Amsterdam City School District, St. Mary's Hospital and others join the Universal Access program. With Universal Access, partners, their employees and customers enjoy convenient access to CDTA services. The UA program provides value for our partners, and it stimulates ridership increases for CDTA.
GROWING FOOTPRINT

– Our service area expanded for the first time in our history with Montgomery County joining CDTA. On August 28, customers enjoyed new routes that transport them efficiently throughout the community. Service consists of four routes, which provide a comprehensive transportation network to residents following the City of Amsterdam discontinuing its municipally operated bus service in April 2018.
MORE MOBILITY

– we continue to grow mobility options with the addition of DRIVE, the first fully electric car share program in the region.

DRIVE

carsharing offers a network of zero-emission vehicles 24 hours a day, seven days a week to customers. DRIVE is the latest installment in CDTA's expanding sustainable mobility offerings, joining fixed route service, STAR, CDPHP Cycle! and FLEX On Demand service.
PEDDALING UP

- The region's only bike-share program, CDPHP Cycle!, ended its sixth season with record-breaking ridership! Season six saw more than 80,000 rides and 28,000 members. Helping to drive record-breaking ridership was new technology and expansion into new areas, including Montgomery County, Menands and Watervliet.   
COMMUNITY CONNECTIONS

– CDTA is committed to the communities we serve giving back throughout the year. One of our signature events is the

annual Pink Bus Pull, highlighting CDTA support for the American Cancer Society's Real Men Wear Pink campaign. Frontline workers, business and community leaders raised over $10,000 for the campaign. Two pink buses traveled throughout the region to support one of the nation's top RMWP fundraising campaigns.
CONSTRUCTION COMPLETE

– Expansion at our Albany Headquarters was completed with new pedestrian infrastructure, expanded employee parking and a 25,000 square foot addition to support the Washington-Western BRT Purple line. Our expanded garage includes three new in-ground articulated bus maintenance lifts and two new bus washers.
DRIVING YOUR CAREER

– CDTA hosted a handful of career fairs for individuals who aspire to join our team of 750 employees. A timely hiring push brought out dozens of applicants who had the opportunity to test drive our fleet of vehicles and take part in on-the-spot interview sessions. While continuing to provide the region with quality service, being nimble and open to change is essential to our mission moving forward.
RENSSELAER RAIL TURNS 20

– We celebrated the 20th anniversary of the Rensselaer Rail Station in September. The 9th busiest station in the country is a model of excellence and efficiency as more than one million travelers using the facility during the year. The station, its parking facilities, and a bridge that connects the City of Rensselaer provide an impressive transportation gateway to the region.
CDTA STAYS STRONG

– As the COVID-19 pandemic stretched on, CDTA continued its work to connect the region. Despite the challenges brought on by the pandemic, workforce and service-related issues, CDTA is delivering top-notch service to the people of the Capital Region. That is due to the dedication of 750 employees who come to work every day and get the job done – connecting people to what matters most to them.
RAPID ROUTES-

Construction on the third leg of our 40-mile Bus Rapid Transit network is underway. The Purple Line will connect Downtown Albany with Crossgates Mall and the University of Albany's Uptown and Downtown campuses. Additionally, the Purple Line will connect to CDTA's Red and Blue BRT Lines, giving customers fast and affordable access to many major destinations within the Capital Region.
CDTA is an integral part of the Capital Region and the five counties it serves. Our services stimulate and support the local economy. They also encourage intelligent land use development and reduce congestion. Community leaders incorporate transit services into their planning efforts to foster environmentally healthy communities more than ever before. While this is happening, we have sharpened our image to position CDTA to a wide and diverse audience all while staying true to our mission, CDTA provides mobility solutions that connect the region's communities.