February 06, 2020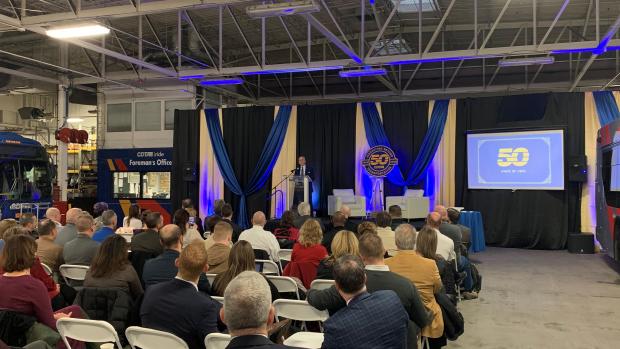 Event Features Updates on Major Projects, Panel Discussion on Mobility Options in the Region, and Highlights of Golden Anniversary Celebration
ALBANY, NY (February 6, 2020) The Capital District Transportation Authority (CDTA) rolled out a series of events and initiatives to celebrate its Golden Anniversary during the State of CDTA event on Thursday, February 6.
The event focused on the history of CDTA and its many accomplishments over the last 50 years. It also gave a preview of what was to come this year as CDTA plans to continue its bold initiatives to help transform the Capital Region into a 21st Century mobility hub.
"I'm so proud to celebrate 50 years of CDTA." said CDTA Chief Executive Officer Carm Basile. "It is amazing to see the impact CDTA has had on the Capital Region and the relationships we have been able to foster in the community. "Innovation Beyond Transportation" is more than just a tagline, it is a motto that we live by at CDTA. I am beyond appreciative to those that have helped us get to this point and am excited to see what the next 50 years will bring."
The event also included a panel featuring Dennis Fitzgerald, former Executive Director of CDTA, and David Stackrow, CDTA Board Member and Immediate Past-Chair for the American Public Transportation Association's Board of Directors. The panel, moderated by Basile, focused on where CDTA was 50 years ago and the type of growth it has experienced over the last five decades. The panel gave a regional perspective and detailed how CDTA fits in the overall economic landscape of the Capital Region.
"CDTA is constantly pushing the envelope of what it means to be a mobility provider," CDTA Board Chairman Jayme Lahut said. "CDTA is a vital community partner, an environmental leader and an integral piece of the Capital Region's economic development."
Over the last 50 years, CDTA has grown into an organization with 700 employees, a budget of more than $90 million and is serving approximately 16.5 million customers annually. It has also grown its fleet to 300 buses and vehicles, which travel 10.2 million miles annually on 50 different routes.
CDTA has proven itself to be more than just a bus company, as it has developed several programs and initiatives to not only benefit its traditional riders, but also the greater Capital Region.
The transportation authority rolled out upstate New York's first Bus Rapid Transit line in 2011, with a second one on the way this fall, partnered with CDPHP for the CDPHP Cycle! program, and most recently introduced the first Electric bus pilot program in upstate New York.
The CDTA's 50th Anniversary logo, a video that detailed where CDTA was and what lies ahead, and a new tagline that defines its history, "Innovation Beyond Transportation" was unveiled at the event. The date for CDTA's official 50th anniversary is August 1, 2020.
YouTube Videos