December 16, 2016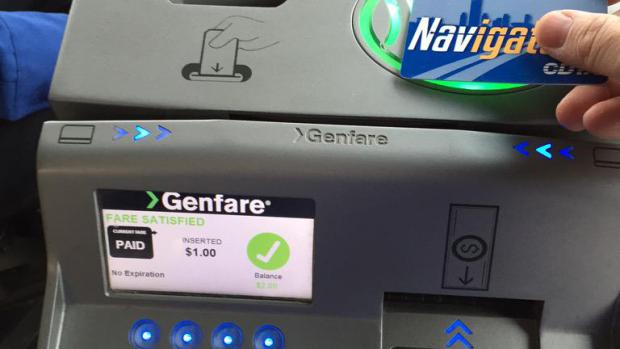 Employees Latest Group to Receive Unlimited Access to CDTA Route Network
ALBANY, N.Y. (December 19, 2016) The Capital District Transportation Authority (CDTA) welcomed Albany International Airport, as its latest Universal Access (UA) partner. The agreement allows Airport employees to access the entire CDTA route network, free of charge, by using CDTA's new smart card, Navigator. 
"We're excited to welcome Albany International Airport to the Universal Access family," said CDTA Chairman of the Board David M. Stackrow. "Our program is a smart, easy way for organizations to provide employees another perk that allows them access to everything our region has to offer. We are proud of our partnership with another innovative partner that understands the value of increasing regional mobility options."
Airport employees now have unlimited access to all CDTA services, including more than 50 routes, BusPlus, STAR, and the Northway Xpress, seven days a week. CDTA has similar UA partnerships with a handful of progressive companies and every major college in the Capital Region. The UA model encourages riders to take advantage of unlimited transit service and adopt a sustainable lifestyle by incorporating CDTA travel into their daily life beyond the commute to school or work.
"Providing our employees with complimentary CDTA Navigator Smart Cards will further support our effort to attract and maintain our workforce and provide our employees with safe transit to and from the airport," said John A. O'Donnell, CEO of the Albany County Airport Authority. "I am glad that we have been able to work with a great community partner like CDTA to enhance our employees' experience."  
Universal Access agreements now generate more than 4 million boardings annually, or close to 25% of CDTA's total ridership. CDTA ridership has increased nearly 25% from 13.8 million in 2009 to the current record-breaking total 17.1 million posted in FY2016. Partners can choose to integrate their organization ID or college ID card into CDTA's farebox or take advantage of Navigator's enhanced technology, which has provided more flexibility for customizing transit partnerships. More than 1,000 customers have been testing the card since spring. The public roll out of Navigator is scheduled for January 2017.