February 01, 2019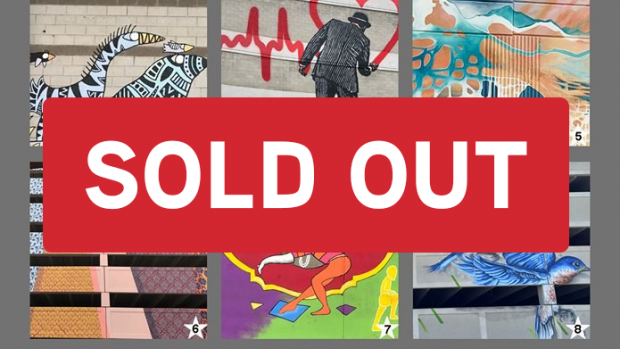 Free Bike Tours of Albany's Vibrant Murals Begin This Weekend
Albany Center Gallery, Albany Barn, CDTA, Albany Parking Authority and CDPHP join together to provide a new way to experience the Capital City's murals
ALBANY, NY – Albany's first ever Capital Walls: Mural Bike Tour! will take place this Saturday, June 1st. This free tour of downtown Albany will be taken on CDPHP Cycle! bikes to visit the Capital Walls murals that were created through a partnership between the Albany Parking Authority, Albany Barn, and Albany Center Gallery.
Attendees will receive a helmet, t-shirt and water bottle commemorating the tour. In addition, morning riders will be given coffee and donuts from Stack's and Ciderbelly Donuts before the tour. Afternoon riders will enjoy light refreshments at the Olde English Pub after their tour.
There are 20 spots available for both the morning tour from 11 a.m. to 2 p.m. and afternoon tour from 3 p.m. to 6 p.m. Registered riders will meet at Albany Center Gallery, located at 488 Broadway, Suite 107 in Albany prior to their tour. Interested parties can register for this free even there.
This tour will visit eight murals over the span of three hours and include special guest artists that contributed to the city's beloved murals, including Rachel Baxter, Cara Hanley and Sylvie Kantorovitz. During the tour they will discuss their murals, the process and what inspired them.
Capital Walls is an effort that seeks to inspire our community with uplifting, educational, or thought-provoking works of public art. By introducing more art into the community, the #CapitalWalls collaboration encourages the community to amplify the vibrancy and culture of the area.
"As part of our Capital Walls mural program, we encourage people to explore the city even if they live locally. This collaboration aims to highlight the murals and the artists that create them, shining a light on the creative process and the importance of public art in our community," said Tony Iadicicco Mural Curator at Capital Walls and Executive Director of the Albany Center Gallery.
"Mural tours are such a great way to get folks out and about appreciating the gems in our city - with partners like the Albany Parking Authority, CDTA, and CDPHP Cycle!, we're able to connect necessary amenities like parking and public transportation to arts, culture, and recreation so folks can explore the city in a new way. When we all come together to deliver a great experience to residents and visitors, that's how we really define a place as a destination to live, work, and play," said Kristen Holler, Executive Director of Albany Barn.
"CDTA is always focused on providing alternative transportation options for our diverse population here in the Capital Region. CDPHP Cycle! was designed with that in mind, and we're excited about partnerships that showcase our bikes in a new way, while promoting our region as a destination for arts and culture," said Carm Basile, CEO of CDTA.
"The Albany Parking Authority is committed to working with community stakeholders to make Albany more walkable and vibrant. Murals and other public art help in the placemaking which gives people a reason to explore Albany and see all that we have to offer. The Capital Walls program has been a remarkable success bringing in regional and international artists who have showcased the uniqueness of our great City and the Albany Parking Authority is pleased we have been able to be the lead sponsor of the program," said Matthew Peter, Executive Director of the Albany Parking Authority.
"I'm thrilled to have CDPHP Cycle! included in this event bringing together the arts, local businesses, and a healthy mode of transportation. Thanks to Albany Center Gallery, Albany Barn, CDTA, and the Albany Parking Authority for getting folks out and moving to appreciate all that our region has to offer!" said Dr. John D. Bennett, president and CEO of CDPHP.
There are only 20 spots available for each of the first two tours. The next tour date will be Sunday, July 21, and priority for July's tours will be given to those on this event's waitlist.