July 25, 2022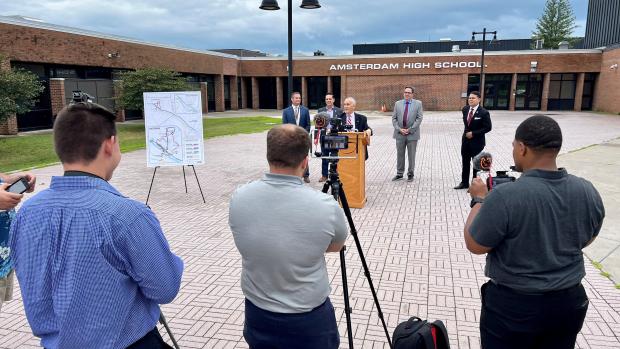 Amsterdam high school students and staff will ride CDTA routes at no cost under Universal Access partnership
AMSTERDAM, NY (July 25, 2022) The Capital District Transportation Authority (CDTA) announced that the Greater Amsterdam City School District will join CDTA's Universal Access program. Beginning on August 28, all high school students and employees will have unlimited ridership within CDTA's service network. Students and employees can use any of CDTA's transit services by swiping their CDTA Navigator card. The partnership will provide local, express, and commuter transit service across Montgomery County, as well as throughout the Capital Region.
"We are thrilled to welcome the Amsterdam City School District to the Universal Access program," said Carm Basile, CDTA CEO. "This program will provide high school students and employees with free, reliable transportation to get to school, work, after school activities and so much more. We are proud to provide this service to the next generation of riders and are excited to welcome this new community on board."
"On behalf of the Amsterdam City Schools I would like to thank CDTA for partnering with us to provide universal access to our students and faculty," said Richard Ruberti, Superintendent of the Greater Amsterdam City School District. "Transportation should not be the difference between making it to school on time or not, and this measure will provide our students, faculty, and staff with the comfort of always having a ride. We are excited to see this partnership grow as CDTA expands into Montgomery County."
The CTDA Universal Access program already includes many of the region's schools and largest employers. Through the program, schools and businesses can provide convenient measures to reduce travel expenses, stressful commutes, and parking costs. These solutions further enhance the academic experience and work environment for those participating.
Congressman Paul Tonko said, "CDTA's expansion to Amsterdam and Montgomery County is a massive victory for families in our Capital Region. Every day, public transit connects thousands of hardworking people in our region to their jobs, schools, hospitals, and their communities as a whole.  When we expand public transit, we provide newer, cheaper transportation options for individuals and families, increase accessibility, and move our communities toward a clean transportation future. That's why I've pushed hard to increase transit options in our region, from securing increased federal funding for Capital Region transit agencies like CDTA to bringing $3 million to the City of Amsterdam for a new multimodal transport station.  I'm proud to have played a role in this significant expansion of critical services, and I'll continue working to deliver these investments that strengthen our communities."
Senator Michelle Hinchey said, "Unlimited CDTA ridership for students and school faculty is more than just free access to bus routes; it's a direct line to opportunities, a connection to new ideas and experiences across our entire Capital Region, and a better quality of life for young people and working families. CDTA's Universal Access partnership with Amsterdam City School District is another historic turning point in our work to deliver reliable public transportation to Montgomery County for the first time. I was incredibly proud to work with my partners in government to secure the funds needed to create these new service connections, and I thank Amsterdam CSD and CDTA for their commitment to bettering the lives of our community members through equitable and accessible public transportation."
"Public transportation is an essential service for all New Yorkers and over the last 50 years, the Capital District Transportation Authority (CDTA) has been a trusted partner in providing these services to upstate residents," said Assemblyman Angelo Santabarbara. "I know firsthand how important reliable transportation is for providing more economic opportunities for our communities, which is why I worked to secure funding so the CDTA could reopen bus routes in Montgomery County. Now, I am happy to announce that the CDTA will further their commitment to providing these services to our communities through their new Universal Access program which offers affordable transportation services to Capital Region employees and students. This new program will put critical resources within reach for our families and I will continue to fight to ensure these services remain accessible to all."
"One of the many things that makes CDTA such an outstanding transportation resource for any community is their Universal Access partnerships." said Amsterdam Mayor Mike Cinquanti. "Having the ability to hop on a CDTA bus to get to and from where you need to go is a valued benefit and recruiting tool for both employees and students. I urge every employer in and around our city to contact CDTA and find out what it would take to have your organization get on board the CDTA Universal Access program." 
Montgomery County service will begin on Sunday, August 28, 2022. The four inaugural routes in Montgomery County include:
Route #600 (Neighborhood Belt Line)

will serve Amsterdam neighborhoods via Church Street, Clizbe Avenue, Guy Park Avenue, Division Street and Route 30. This route will run Monday – Friday 6:15 a.m. to 9:00 p.m. Saturday 8:45 a.m. to 6:15 p.m. and Sunday 9:00 a.m. to 5:00 p.m.

Route #601

(South Side and Route 30) will serve South Amsterdam and Route 30 via Bridge Street, Market Street and Wallins Corner Road. This route will run Monday – Friday 6:15 a.m. to 9:00 p.m. and Saturday 9:00 a.m. to 6:15 p.m.

Route #602

(Amsterdam to Schenectady) will connect Amsterdam to Schenectady via Guy Park Avenue, Division Street, East Main Street and the Mohawk Turnpike (Route 5). This route will run Monday - Friday 6:00 a.m. to 9:00 p.m. Saturday – Sunday 9:00 a.m. to 6:00 p.m.

Route #560

(Thruway Xpress) will connect Montgomery County to Albany via I-90. This route will run Monday – Friday. Morning trips will be 6:15 a.m. to 8:45 a.m. Afternoon trips will be 12:00 p.m. to 2:45 p.m. Evening trips will be 3:45 p.m. to 7:00 p.m.