November 19, 2020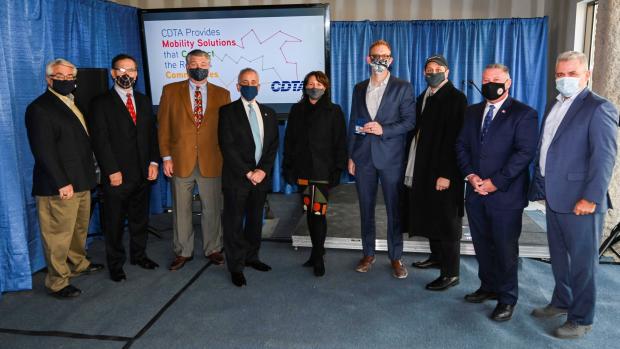 New Service Connects Hudson River Communities with Limited Stop Schedule, Better Amenities 
ALBANY, NY (November 19, 2020) CDTA launched its second Bus Rapid Transit along the River Corridor making connections and service quicker and easier than ever before. The service which is known as the "Blue Line" will connect communities along the Hudson River with limited stop service that looks and feels like rail service on wheels. It is the second leg of CDTA's three-line BRT network.
"The Capital Region is a growing regional hub and home to state government, technological innovation, small businesses, universities and thriving communities." said Carm Basile, CDTA CEO.  "The diverse urban centers and corridors in our region need evolving transportation infrastructure to support their continued renaissance. The Bus Rapid Transit service and the introduction of the "Blue Line" is an innovative solution to help improve access throughout the region, while investing in our communities."
Blue Line customers will enjoy fewer stops, faster service and more connections while travelling the 16-mile route between Waterford, Cohoes, Lansingburgh, Troy, Watervliet, Menands and Albany. In addition to the enhanced service, CDTA has made significant infrastructure improvements along the corridor to benefit transit customers, pedestrians, and motorists.
"The CDTA Board has implemented a progressive vision to bring new services to the Capital Region that will make our communities and people more connected than ever before." said Jayme Lahut, CDTA Board Chairman. The Bus Rapid Transit service is a key milestone in advancing that vision, and the launch of this service is a tremendous day for the quality of life for residents in the cities and towns that this line now serves."
The River Corridor BRT is a $42 million dollar project with a majority of the funding awarded by the Federal Transit Administration and the New York State Department of Transportation. This includes 31-paired stations, 20 branded vehicles, expansion of our Troy garage, reconstruction of intersections with improved pedestrian connections, and technology enhancements to prioritize bus traffic.
"The more diversity in a region's infrastructure to accommodate all modes of transportation, the more competitive a region can be." said Marie Therese Dominguez, Department of Transportation Commissioner. "Governor Cuomo's wise investment in CDTA's Bus Rapid Transit Blue Line will not only help Capital Region residents get to where they need to go quicker and more efficiently but help reduce the region's carbon footprint by reducing the need for cars on the road. This is a true win-win for the Capital Region and the Department of Transportation is proud of the role we continue to play to move the region's economy forward."
"Regional transportation systems around the country play a critical role providing access and mobility to the communities they serve." said K. Jane Williams, FTA Deputy Administrator. "CDTA is an example of how transportation systems can utilize innovation to continue being an economic driver for the communities they serve. I congratulate CDTA on the expansion of the BRT service and look forward to the continued success of this innovative program."
The River Corridor produces 3 million transit rides annually and is undergoing a revitalization with developments that need more service. The Blue Line services a dense, urban corridor that connects offices, universities, shopping centers, retail districts, and residential areas in the heart of the Capital Region.
"Strengthening our transportation systems has immediate and long-term benefits for our economy and the countless workers, businesses and neighborhoods who depend on it," said Congressman Paul Tonko. "CDTA's BRT service is an example of how advanced transportation solutions can bolster growing upstate communities. Their pioneering leadership continues to bring forth new and exciting opportunities to our Capital Region. Congratulations to our CDTA leaders, staff and supporters on the success of this worthy project. I will continue working in Washington to support these and other investments that connect and serve our community."
The new line is color coded in silver and blue, making the corridor and the service very distinctive. New buses will travel along the corridor and they will be coordinated with local services.
"Albany and Troy are two buzzing city centers growing on opposite sides of the Hudson River." said Senator Neil Breslin. "The ability to connect these two hubs will open the gates for continued joint economic growth—connecting businesses, residents, employees and students across the river. I am thrilled to welcome the "Blue Line" to our community and look forward to constituents being able to take advantage this rapid transit service."
"The BusPlus Blue Line will bring lower ride-times, increased arrivals, and less frequent stops to residents and visitors alike throughout much of the Capital Region," said Assemblymember Patricia Fahy. "Designed to feel more like a mono-rail or train than a bus, I commend CDTA for their innovation in their mission to expand flexible, quality, reliable public transportation options to all of the Capital Region's communities. Access to more flexible and numerous transportation options can significantly improve one's opportunities as it relates to education, employment, and more- as well as drive business and foot traffic in an ever-more interconnected Capital Region."
"Small businesses have faced unprecedented challenges this year in the face of the coronavirus pandemic." said Assemblymember John McDonald. "The introduction of the Blue Line to the River Corridor will undoubtedly be a huge help to the small business community by stimulating new foot traffic and customers in the region and will also provide their employees find a quick and efficient mechanism to work. We need to continue finding innovating solutions to help our community recover from the economic aftermath of the pandemic and expanding the BRT service is just one example. Thank you CDTA for your partnership and investment in our community."
"The BRT Red Line, which created a high-speed connection from Albany to Schenectady, was transformational for people and businesses across my district." said Assemblyman Phil Stec, "The BRT service has eased congestion, provided reliable transportation for professionals and bridged two major city centers in the Capital Region. The new Blue Line will only continue to spur growth for the Capital Region, and I applaud CDTA for their continued investment in our community."
"Rensselaer County is proud to be a part of CDTA BRT line, connecting the urban and suburban areas of our county in new and efficient ways." said Rensselaer County Executive Steve McLaughlin. "We are continuing to build the area's economy and improve the quality of life for our citizens. The addition of the Blue Line will not only be great for the county, but also the region."
"Connecting our communities is critical for a number of reasons including economic growth, reliable transportation for many to get to work and to take additional cars off the road which relieves congestion and pollution," said Albany County Executive Daniel P. McCoy. "This BRT Blue Line will be faster and more convenient as it serves Albany's South End by connecting it to the river communities of Menands, Watervliet, Cohoes, Troy and Waterford. Thank you, CDTA."
"Troy remains a thriving regional destination where visitors and residents across the Capital Region come to explore our city's historic neighborhoods and waterfront, and patronize our small businesses, shops, restaurants, and breweries," said Troy Mayor Patrick Madden. "As we continue to grow and attract visitors to the area, we need partners like CDTA to provide convenient and innovative solutions that support Troy's ongoing revitalization. Expansion of CDTA's BRT service along the River Corridor and their investment in community infrastructure is a welcome addition to Troy's diverse neighborhoods."
"CDTA's commitment to enhanced mobility options in Albany is what helps to keep driving our city forward," said Albany Mayor Kathy Sheehan. "Thank you to CDTA and the New York State Department of Transportation for their continued dedication to improving this important component of the City of Albany's public transportation system."
"Having a regional transportation system connecting two of the region's most populated areas is vital, and the CDTC is pleased to support the CDTA BRT service." said Michael Franchini, Capital District Transportation Committee. "CDTA's BRT success is a great example of good transit planning – examining the data, analyzing trends, seeking input, developing a great plan, and then implementing the plan.  This is how all infrastructure improvements should be made."
"Environmental stewardship is central to our entire real estate practice, encompassing not only building design and systems, but also where we develop, and ways of empowering our tenants to be more sustainable," said Jeff Mirel, Executive Vice President, Rosenblum Companies. "In this regard, we couldn't ask for a better, more forward-thinking partner than CDTA. The new BRT service and integrated micro mobility options like bike-share provide a compelling, convenient and carbon-friendly way for our tenants to connect everywhere they need to go."
Basile said, "Thank you to Governor Cuomo, the FTA and state and local leaders for seeing the value of this new and progressive service, making it a reality for the people in the capital of New York State. We are well on our way to making 40-miles of BRT an option in the Capital Region."