July 06, 2015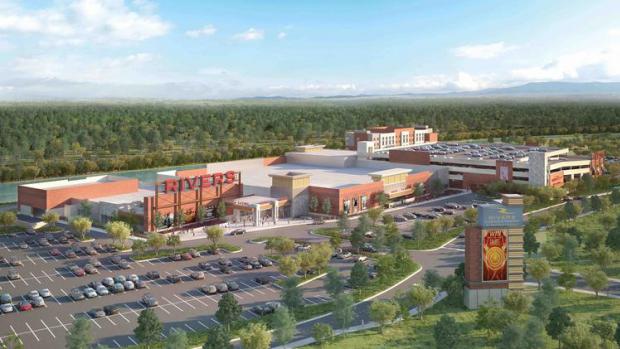 Rivers Casino to Hold Job Opportunity Fair and Vendor Forum at Schenectady County Community College 
SCHENECTADY — Rivers Casino will hold a Job Opportunity Fair at Schenectady County Community College (SCCC) on Saturday, July 18 from 8 a.m. to 3 p.m., for residents of the Capital Region to explore future careers in the gaming hospitality field. The Job Opportunity Fair will be conducted in rolling sessions. Sessions will begin at 8 a.m., 10 a.m., noon and 2 p.m.
"We know there has been a lot of interest in the Capital Region about the careers at Rivers Casino," said Rivers Casino General Manager Mary Cheeks. "We want to provide people with information they can use to plan for the future, so they are qualified for jobs when we begin hiring. It is our goal to help people understand career paths in this industry and get on the right track today."
Additionally, Rivers Casino will be hosting a Vendor Forum on Friday, July 17, at which local businesses will be able to learn more about working with Rivers Casino and in the gaming industry. This event will also be at Schenectady County Community College, and there will be a session at 8 a.m. and a second session aimed specifically at minority- and women-owned business enterprises at 3 p.m. Owners and operators, principals and sales and marketing representatives from Capital District-area companies that hope to supply goods or services to Rivers Casino in Schenectady are welcome and encouraged to attend. No advance registration is necessary.
"The gaming industry is a unique environment that many businesses are not familiar with, and we want to ensure they get the information they need about working with Rivers Casino," added Cheeks. "We'll be talking to businesses of all sizes about the needs Rivers Casino will have, and what it is like to partner with a company like ours. These sessions represent an important first step in the local vendor relationships we will be building in the Capital Region."
Attendees of the Job Opportunity Forum will get the chance to ask questions of Rush Street Gaming representatives, as well as Rivers Casino local workforce development partners: Northeast Career Planning, Trinity Alliance and the SEAT Center, an outgrowth of Northeast Parent & Child Society and Northern Rivers. The aim of the event is to provide information about positions and qualifications, and connect attendees with education and training pathways that will better prepare them for a career at Rivers Casino. Resumes and applications will not be accepted. No advance registration is required. Attendees are encouraged to utilize routes on the Capital District Transportation Authority's "Rivers Job Express," a free bus shuttle that will be running at points throughout the Capital Region on July 18.
Rivers Casino is projected to create approximately 1,200 jobs. Rush Street Gaming, the operator of Rivers Casino, will offer competitive compensation packages, job training and advancement opportunities to its team members. Additionally, every Rush Street Gaming property has been voted a "Best Place to Work" or "Top Workplace" by its team members.
"I want to urge members of the Schenectady community and the entire Capital Region to come to this Job Opportunity Fair to learn more about how to pursue a career at Rivers Casino," said Schenectady Mayor Gary McCarthy. "We are extremely pleased to host this event in our city and are looking forward to the quality jobs Rivers Casino will bring to Schenectady and the entire region."
"The Job Opportunity Forum will be a tremendous first step for the residents in Schenectady County who want to work at Rivers Casino," said Anthony Jasenski, Chairman of the Schenectady County Legislature. "The casino means 1,200 new jobs and we want to make sure that our residents get the information they need to explore new career opportunities."
In addition to Rush Street Gaming representatives, attendees will be able to speak with representatives from SCCC's programs in culinary arts, hospitality and casino and gaming management; Northeast Career Planning; the SEAT Center; and Trinity Alliance.
"Schenectady County Community College is happy to be hosting such an important event for the Capital Region, and to be working with Rivers Casino to lay the groundwork for the local workforce to benefit from this casino," said Dr. Steady Moono, President of Schenectady County Community College. "We hope residents from across the Capital Region take advantage of this opportunity to learn more about what they can do to further their job readiness, and get connected to educational and training resources."
"We are proud to be working with Rivers Casino on this opportunity and to ensure that the Capital Region has access to the opportunities Rivers Casino will bring," said Richard J. Bennett, CEO of Northeast Career Planning. "This is an important step to ensuring people are ready to work at Rivers Casino when they open the doors of this facility."
"Our organization is committed to improving the lives of families in Albany and the Capital Region, with access to quality jobs and educational resources, which is vital in that mission," said Harris Oberlander, CEO of Trinity Alliance of the Capital Region. "We are already getting people ready to work at our new Capital South Campus Center, and we look forward to partnering with Rivers Casino to connect more people to quality education and job readiness, leading to meaningful and lasting employment."
"We want to let the entire region know that there are great job possibilities here for the future," said Jennifer Lawrence, Executive Director of the Social Enterprise and Training (SEAT) Center. "Focusing on improving access to sustainable wage jobs is the reason the SEAT Center developed out of Northeast Parent & Child Society, and working with Rivers Casino represents a great opportunity for us to fulfill that goal."
"We're proud to be working with Rivers Casino on this Job Opportunity Fair, and to be helping people all over the Capital Region get to what is the first step in accessing the opportunity that this project represents," said CDTA CEO Carm Basile. "We'll be running the 'Rivers Jobs Express' all day Saturday to make sure everyone who wants to learn more about working at Rivers Casino has that opportunity."
Rivers Casino in Schenectady is Rush Street Gaming's fourth U.S. gaming facility. It also operates Rivers Casino in Pittsburgh, SugarHouse Casino in Philadelphia and Rivers Casino in Des Plaines, Illinois (near Chicago). These properties generate more than $1 billion in annual gaming revenues and have consistently earned awards for design and operation. Rivers Casino will be a $300 million gaming facility featuring a 50,000-squarefoot gaming floor with 1,150 slot machines, 62 gaming tables and 15 poker tables. A steakhouse, a marketplace with multiple restaurants, an entertainment lounge, a banquet facility and a spa will also be a part of the project, as will a 150-room hotel. Public outdoor open spaces and riverfront walking and biking trails are integral to the casino's design.
Rush Street Gaming and its affiliates were selected in December 2014 by the New York Gaming Facility Location Board to receive one of three licenses in Upstate New York. Rivers Casino's license to operate a casino in Schenectady and Mary Cheeks' appointment as general manager are pending approval from the New York State Gaming Commission. For more information on the Rivers Casino Job Opportunity Fair or Vendor Forum, visit www.riverscasinoandresort.com. 
About Rush Street Gaming – Founded by Neil Bluhm and Greg Carlin, Rush Street Gaming and its affiliates have developed and operate successful casinos in Pittsburgh, Philadelphia and Des Plaines, IL (Chicago area). By placing an emphasis on superior design and outstanding customer service, Rush Street Gaming has become one of the leading casino developers in the United States. Existing casinos generate over $1 billion in annual gaming revenues, and all Rush Street Gaming casinos were voted a 2014 "Best Place to Work" or "Top Workplace" by their team members.