October 24, 2022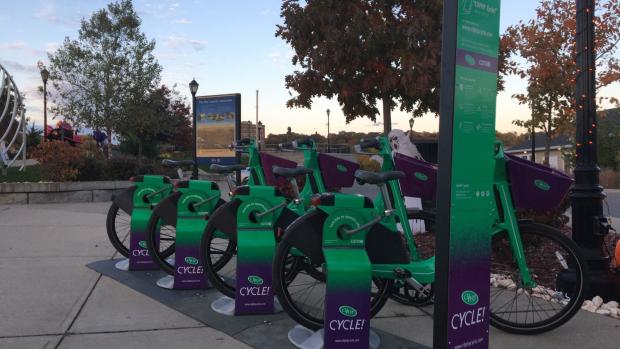 68,000 rides have already been taken this season, and now CDPHP Cycle! is expanding into Amsterdam.
ALBANY, NY (October 24, 2022) CDTA and CDPHP are reminding area residents and visitors that the sixth season of CDPHP Cycle! will end on November 30 (weather permitting), so there's just about a month left to get out and enjoy the fall foliage with a heart-healthy ride.  
A whopping 68,000 rides have already been taken this season, even with a slight delay in getting the bikes out on the streets due to the installation of new technology which makes renting faster and easier than ever before. In addition, 10 new bikes and two rack locations have just popped up in the City of Amsterdam to complement CDTA's recent service expansion into Montgomery County. One rack with four bikes will be located at the foot of the beautiful Mohawk Valley Gateway Overlook Bridge. The second rack will also have four bikes and will be located at St. Mary's Hospital across from the main building on Guy Park Avenue. The remaining two bikes will be locked to existing racks on the Empire Bike Trail near Lorenzo's Restaurant. 
"I couldn't be happier to hear that more folks than ever are using CDPHP Cycle! bikes to get around town for work and play," said President and CEO of CDPHP, Dr. John D. Bennett. "This cements the fact that our bike-share program is a valuable mobility option, and I once again thank our partners at CDTA for finding new and innovative ways to keep moving our region forward."
"CDPHP Cycle! is an important CDTA offering, both on its own and as part of our incredibly popular Universal Access program, allowing folks to bundle multiple mobility options," said CDTA CEO Carm Basile. "I am encouraged by the success of season six, as well as the steady addition of bikes in new areas of our region."
Riders can purchase a membership or load a pay-as-you-go account by registering online or downloading the CDPHP Cycle! mobile app. You pay for what you ride, which comes out to just $.08 per minute with an hourly pass.
For more information, including additional rental fees, rack locations, and more, visit www.cdphpcycle.com.
###
About CDPHP®  
Established in 1984, CDPHP is a physician-founded, member-focused and community-based not-for-profit health plan that offers high-quality affordable health insurance plans to members in 29 counties throughout New York. CDPHP is also on Facebook, Twitter, LinkedIn, and Instagram.  
About CDTA
CDTA is the premier mobility provider in the Capital Region, providing local, express, commuter and bus rapid transit services across its five-county service area. CDTA also operates the regional bike-share program, CDPHP Cycle! CDTA owns and operates the Rensselaer Rail and Saratoga Springs Train Stations. CDTA was named the 2017 Best Mid-Sized Transportation System in North America by the American Public Transportation Association.