November 25, 2020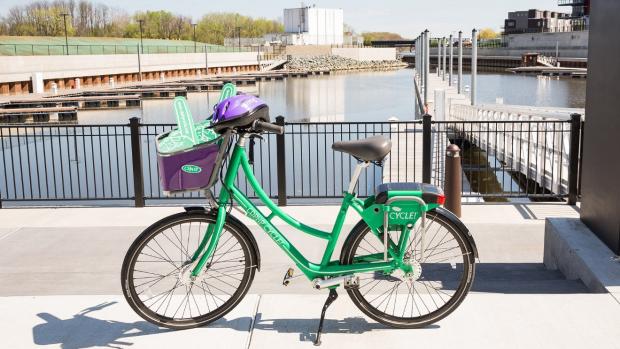 Ridership Surges in Season Four as Community Chooses Safe, Healthy Option During Pandemic
ALBANY, NY (November 25, 2020) The Capital District Transportation Authority (CDTA) and CDPHP will wrap up season four of CDPHP Cycle! on December 11, 2020 with stronger than expected ridership. The program is on pace to end the season with more than 38,000 trips taken and 18,500 members across the Capital Region.
 "Even with a delayed start to the 2020 season, CDPHP Cycle! ridership remained strong, and provided the Capital Region with a healthy way of exercising and getting around town," said John D. Bennett, MD, President and CEO of CDPHP. "I applaud our partners at CDTA – as well as the community – for taking the proper safety precautions and keeping the bikes clean for all to enjoy."
"We are thrilled by the numbers and proud that we could offer this fun and safe mobility option to the Capital Region during an uncertain time." said Carm Basile, CEO of CDTA. "Our team redesigned the operations plan to include a rigorous cleaning and disinfecting process and other methods to assure customers they are safe and secure when using our bikes. These updates have allowed the public to safely enjoy healthy outdoor biking across the Region."
Contributing to ridership gains has been the introduction of CDPHP Cycle! Access agreements with area colleges and businesses including the University at Albany, Tru by Hilton Albany Airport hotel, and The Desmond hotel, bringing the total number of CDPHP Cycle! Access partners to 15.
The region also had the opportunity to enjoy CDPHP Cycle! in a fun and recreational way thanks to several partnerships throughout the season. Hundreds of residents took advantage of the "Pedal-Paddle" Staycation program through the New York State Canal Corporation, bike tours of "Capital Walls" with Albany Center Gallery, and "Bike the Lights" night at The Capital Holiday Lights in Washington Park.
To add even more fun to the end of the riding season, the community can take $5 off a ride with holiday promo code TWINKLE20. Nearly 100,000 bike rides have been taken since CDPHP Cycle! was introduced in 2017.Riders can purchase a membership or load a pay-as-you-go account by registering online or downloading the CDPHP Cycle! mobile app. You pay for what you ride, which comes out to just $.08 per minute with an hourly pass. For more information, including additional rental fees, rack locations, and more, visit www.cdphpcycle.com.
After a thorough cleaning and end-of-season maintenance tune-up, the bikes will be stored for the winter at the Albany Public Library. CDPHP Cycle! is expected to return for the start of season 5 in April 2021.