May 02, 2022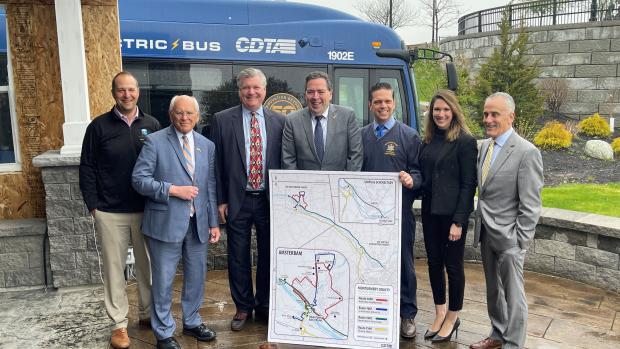 Comprehensive plan to bring mobility options to Amsterdam and surrounding communities to begin this fall
AMSTERDAM, NY (May 2, 2022) The Capital District Transportation Authority (CDTA) has announced an expansion of its service network into Montgomery County. The City of Amsterdam discontinued its municipally operated bus service in 2018, limiting access to a comprehensive transportation system for residents. CDTA will provide a fortified route network that will connect Montgomery County and boost economic opportunities.
"This is a tremendous opportunity for Montgomery County and CDTA. We are proud to expand our mobility to strengthen and uplift this community." said CDTA CEO Carm Basile. "For far too long residents have gone without fundamental transportation services - connecting people to economic opportunity. We will give Montgomery County the opportunity to start a new chapter with a reliable and convenient transit network that will provide success for years to come."
The expansion includes service in and around the city of Amsterdam, with connections to Schenectady and planned express service that will connect people to Albany. The expansion is supported by New York State with funding included in the FY22-23 budget. Thank you to Governor Kathy Hochul and leadership in the Senate and Assembly for their work to get this done.
"As we move through 2022, we know the key role we play in the development of our region and that's a charge we take very seriously." said Jayme Lahut, CDTA Board Chairman. "Expanding services into Montgomery County will create new opportunities and connect people to this community and to the broader Capital Region."
The CDTA service plan for Montgomery County includes intersected routes for easy transfers and frequencies that are designed to minimize wait times. Routes will serve commercial and residential areas while incorporating the needs of the Amsterdam City School District, its students, faculty, and staff.
CDTA will also operate an express route to Albany and incorporate new stops to make services accessible to people who work in Albany. The limited stop, express route will stop at park and ride lots at thruway exits 25 and 26. This fast, easy, and convenient service will provide a new way to commute to and from workplaces in Albany.
"CDTA's expansion to Amsterdam and Montgomery County is a huge win for working families in our region." said Congressman Paul Tonko. "When we utilize public transit, we reduce pollution, traffic congestion, and our fossil fuel emissions, moving us toward the clean transportation future we need to preserve our planet. That's why I've pushed hard to increase transit options in our region, from securing increased federal funding for our Capital Region transit agencies, to bringing $3 million to the City of Amsterdam for a new multimodal transport station.  I'm proud to have played a role in this significant expansion of critical services, and I'll continue working to deliver these investments that strengthen our communities."
"For the first time ever, we are bringing reliable and affordable public transportation into the City of Amsterdam and across Montgomery County, transforming a transit desert into a model of accessibility and delivering historic new connections for our residents to travel from their community throughout the entire Capital District," said Senator Michelle Hinchey. "Establishing Montgomery County as part of the CDTA network opens a whole new world of opportunities for our working families and small businesses, and I am incredibly proud to have secured over $1.25 million in state funding to create this life-changing service expansion."
"Public transportation strengthens our communities, builds connections, boosts the local economy and helps residents – especially commuters, seniors and students get to their destinations safely," said Assemblyman Angelo Santabarbara. "With the funding secured in this year's state budget, we're bringing all that comes with reliable CDTA bus service to Amsterdam and into Montgomery County communities. This is a big win for my Assembly District, and one that restores a vital service to residents that have struggled with a lack of public transit options for quite some time"
"The expansion of CDTA into Montgomery County is a turning point for our community," said Montgomery County Executive Matthew L. Ossenfort. "This addresses a critical need for residents that will expand employment opportunities and enhance their overall quality of life. I'm grateful that we were able to work together and find a solution which will better serve the transportation needs of Montgomery County."
"Making the greater Amsterdam area a part of the CDTA transportation network provides the residents of our city with a quality-of-life enhancement which will have dramatic and long-lasting benefits for our entire community." said Amsterdam Mayor, Michael Cinquanti
"In addition to making, it easier and more affordable for people to get anywhere they need or want to go inside our City, CDTA coverage also provides us with a vital back and forth connection to the businesses, attractions, consumers, and labor pools in communities throughout the Capital District. We look forward to working closely with CDTA to optimize these transformational benefits."
"This new partnership with CDTA, which Greater Amsterdam Schools is proud to have been a part of since its inception, is expected to serve hundreds of our students at Amsterdam High School and countless families in the area as they strive to get to school, work, events and other activities throughout the year," said Superintendent of Amsterdam City Schools, Richard Ruberti. "On behalf of our school district and our Board of Education, I'd like to thank CDTA, the City of Amsterdam and our federal, state and county partners, for their help and financial support in providing affordable public transportation for our city, and in turn, providing greater opportunities for our children and families."
As part of a phased approach, CDTA will eventually bring its new mobility options to the community, including bike share (CDPHP Cycle!), ride share (FLEX), Scooters (SCOOT) and car share (DRIVE) under one common payment platform, Navigator.