October 09, 2020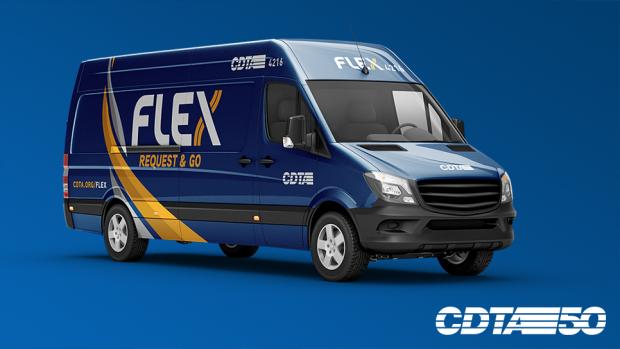 CDTA Flex Service Now Offering Convenient Payment Options
ALBANY, NY (October 9, 2020) CDTA will implement a pilot fare payment program for its popular FlEX On Demand service beginning on Monday, October 26, 2020. FLEX rolled out earlier this year with an introductory period of complimentary fares and has quickly become an effective transportation choice for customers in Colonie, Guilderland, and Latham.
Customers will have the option of paying $3.00 per trip or can purchase a 10- trip pass for just $25.00. Payment options include cash (exact change) or CDTA's Navigator smart card or mobile application. FLEX allows customers to enjoy curb-to-curb service within the specified zone by downloading the free TransLoc App and requesting a ride. Customers will be able to purchase FLEX fares online at CDTA.org, via the Navigator mobile application and through the retail sales network beginning Monday October 19, 2020.  
CDTA FLEX vehicles undergo the same cleaning and disinfecting processes that all CDTA vehicles do to ensure customer safety and security. We have stepped up cleaning and disinfecting measures on all vehicles, operator compartment barriers, masks are required on all buses and vehicles, and social distancing.
For more details, visit http://www.cdta.org/flex
Flex Service Area Map