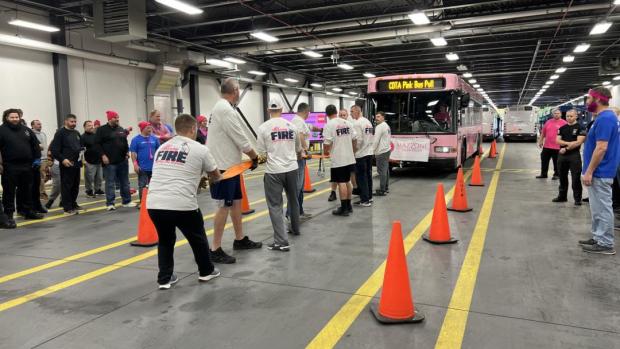 October 20, 2023
The Capital Region Community Pulls Together for Breast Cancer Awareness Month
ALBANY, NY (October 20, 2023) The Albany Fire Department has defended its title as Bus Pull Champions and took home the coveted pink bus trophy and bragging rights at the 7th annual CDTA Pink Bus Pull to support the American Cancer Society's Men Wear Pink campaign. Coming in second place, Albany Police Recruits, and rounding out the top three was the Siena Baseball Team. So far this year, CDTA has raised more than $20,000 for the campaign.  
The Capital Region community came together for the 7th annual Pink Bus Pull on Friday, October 20 to help raise critical dollars in the fight to end breast cancer and support the Men Wear Pink campaign. Teams from CDTA, FBI, Albany Police Department, Albany Fire Department, Mazzone Hospitality, Broadview Federal Credit Union, Albany Medical Center, United Way of the Greater Capital Region, Siena College, Creighton Manning, National Grid, BBL and more brought co-ed teams of 8 people together to test their strength and race the clock as they pulled a 30,000-pound pink bus 30 feet!
For the eighth year, CDTA is partnering with the American Cancer Society on its Men Wear Pink campaign. As part of the initiative, the iconic pink CDTA buses are out on Capital Region streets to raise awareness and support the campaign. Materials and decals to transform the pink bus were generously donated by NAPA Auto Parts, Lamar Advertising and Seifert Transit Graphics.
This year, CDTA has partnered with Camelot Print & Copy, Ted's Fish Fry, and Lamar Advertising to raise even more money and awareness for the campaign. Their logos have been displayed on the pink 40-foot bus in recognition of their generous donations toward the campaign. Broadview Federal Credit Union is supporting the Real Kids Wear Pink STAR bus.
CDTA has raised more than $100,000 over the last eight years for the American Cancer Society.