December 23, 2022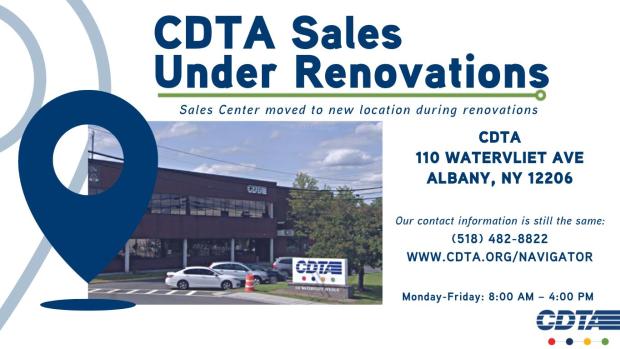 Sales Office at 85 Watervliet Avenue Closed Beginning Wednesday, December 28
ALBANY, NY (December 23, 2022)  The Capital District Transportation Authority (CDTA) wants to inform customers the CDTA sales office at 85 Watervliet Avenue will be closed for renovations beginning Wednesday, December 28 until further notice.
Beginning Tuesday, January 3, 2023, customers can purchase passes and have Navigator IDs created at CDTA's headquarters located at 110 Watervliet Avenue. The sales window will be open Monday though Friday from 8 a.m. to 4 p.m. and closed on holidays and weekends.
Customers can always purchase passes online at www.cdta.org or by visiting one of retail outlets across the Capital Region. For a list of our retail outlets, click here. Customers who need more information about CDTA's sales window can call the CDTA Customer Service Center at (518)-482-8822.