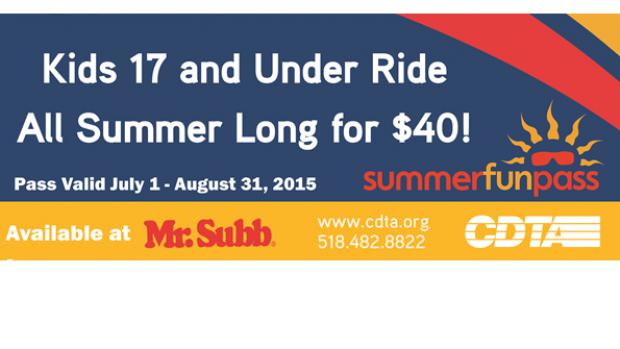 June 15, 2015
Discounted Passes Now Available at Mr. Subb, CDTA Sales Office, and Saratoga Springs Train Station
ALBANY, N.Y. (June 15, 2015) The Capital District Transportation Authority (CDTA) announced that the popular Summer Fun Pass is back! The pass offers Capital Region youth, 17 and under, unlimited rides on CDTA regular route buses from July 1 – August 31, 2015 for just $40.00. The cost of the pass is a significant savings (more than 65% off) from the cost of two monthly Swiper passes. Area kids can use the Summer Fun Pass to get to key destinations like Grafton Park, Saratoga Springs and summer jobs all over the Capital Region.
 
"We are thrilled to once again offer the Summer Fun Pass," said Board Chairman David M. Stackrow. "It's a great way to give back to the community and provide the area youth the opportunity to grow and experience all the great things the Capital Region has to offer at a very affordable price."
The Authority is once again partnering with Mr. Subb on the sale of the Summer Fun Pass. Customers can purchase the pass at select Mr. Subb locations throughout the Capital Region, online at www.cdta.org, at the CDTA sales office located at 85 Watervliet Avenue in Albany and the Saratoga Springs Train Station located at 26 Station Lane.
For more information regarding the Summer Fun Pass, a listing of Mr. Subb locations or other CDTA Services click here. Customer service representatives are available over the phone at (518) 482-8822 from 6am-7pm weekdays, 8am - 6pm on Saturdays and 8am-5pm on Sundays/holidays. To stay connected with CDTA's latest initiatives, like us on Facebook at facebook.com/CDTAiride or follow us on Twitter (@CDTA).
ABOUT CDTA: The Capital District Transportation Authority (CDTA) was created in 1970 by the New York State Legislature as a public benefit corporation to provide regional transportation services by rail, bus, water and air. CDTA is the premier mobility provider in the Capital Region, providing local, express, commuter and bus rapid transit services. CDTA owns and operates the Rensselaer Rail and Saratoga Springs Train Stations. Today, nearly 650 people work to deliver a transit system that transports 60,000 customers each weekday.