August 24, 2017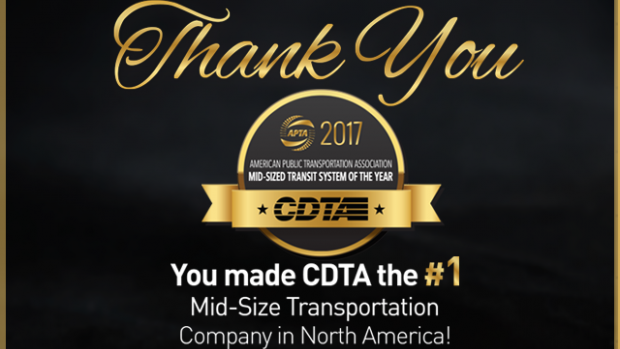 Free Grandstand Admission Tickets Available for Fan Appreciation Week
ALBANY, NY (August 25, 2017) The Capital District Transportation Authority (CDTA) is thanking customers for helping make it the Best Mid-Sized Transportation System in North America! As part of The New York Racing Association's Fan Appreciation Week, CDTA will be handing out free Saratoga Race Course grandstand admission tickets good through Labor Day on Monday, September 4, 2017.
Starting Monday, August 28, 2017, and concluding Friday, September 1, 2017, the first 100 customers to board CDTA's Saratoga Summer trolley, each day, will receive one (1) grandstand admission ticket to the track. The trolley operates free of charge from 11:00 am to 11:15 pm through Labor Day. It serves hotels and key attractions along Broadway in Downtown Saratoga, including the Saratoga Race Course and Saratoga Casino and Hotel.
Riders can download Transfinder's new CityFinder mobile application to track the trolley's location in real time along with detailed reviews for Saratoga points of interest.
CDTA recently announced it was named the Best Mid-Size Public Transportation System in North America by the American Public Transportation Association (APTA). CDTA's reliability, innovation, service design and community relationships have made it one of the top public transit systems in North America.
CDTA representatives will attend the APTA conference in early October in Atlanta, GA, to receive the award.