December 31, 2019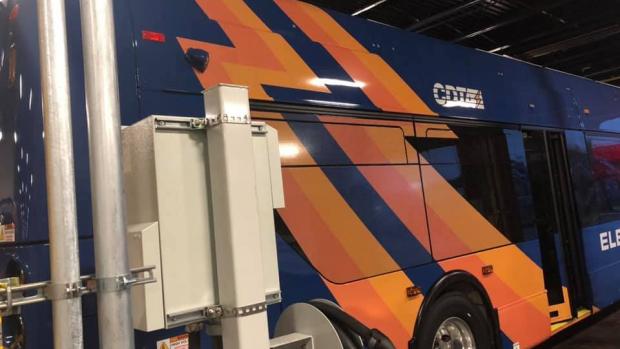 Growing Economic Opportunity and Community Partnerships
ALBANY, NY (December 31, 2019) The Capital District Transportation Authority continued to connect people to economic opportunity throughout 2019. As we approach a new decade, CDTA is closing out 2019 with a great sense of accomplishment and pride in the work it does to make the Capital Region move. The following is a look at some of CDTA's top projects and accomplishments in 2019.
UNIVERSAL ACCESS – CDTA's signature program continued to power transit services throughout the Capital Region. By wholesaling ridership and partnership development, our Universal Access partnerships resulted in over 4.4 million rides this year. More than 25% of the program partners have added CDPHP Cycle! to their transportation choices heading into 2020.
DOWNTOWN CONNECTIONS – CDTA's network of Trolleys continued to enhance connections throughout 2019. Schenectady's Electric City Trolley supported Mohawk Harbor events, the Saratoga Summer Trolley provided nearly 20,000 trips and Albany's Capital City Trolley continued to connect the growing downtown core. These services, which are supported by a network of partners, focus on enhancing the region's assets, designed to drive tourism and improve mobility in downtown centers.
RIDESHARE MEETS TRANSIT – The Board of Directors continued to steer CDTA into the 21st century economy with approval of a micro transit pilot, which is called FLEX. Micro transit offers a flexible routing and trip scheduling platform for customers. Look for a CDTA shared-use vehicle, providing a hybrid service between fixed route and ridesharing, starting in early 2020.
CDPHP CYCLE! PEDALS TO THE TOP – CDPHP Cycle! finished its third season with record-breaking ridership. More than 41,000 trips were taken in Albany, Cohoes, Schenectady, Troy, and Saratoga Springs. Contributing to significant ridership gains in season three was the introduction of CDPHP Cycle! Access agreements with colleges and businesses across the Capital Region. With RPI and UAlbany adding CDPHP Cycle! Access to their campus communities in 2019, ridership in Albany and Troy soared to more than 33,000.
IT'S ELECTRIC – In 2020, CDTA we will be the first transit system in upstate New York to introduce electric buses. Electric bus technology is at the forefront of consideration for many transit agencies across the country. The pilot will run for several months to provide operating and financial information about this new and 100% green propulsion system. This will expand our mobility menu; giving customers and our community more options to navigate the Capital Region.
BUS RAPID TRANSIT; TAKE TWO - Work on our second Bus Rapid Transit (BRT) line is underway. Part of the project includes the expansion of our Troy garage, which is needed to house vehicles for the River Corridor BRT. It is also part of comprehensive renovation work on our facilities; the Troy garage opened in 1980 and has had only minor incremental improvements. The renovation will upgrade work flow and efficiency, especially in the maintenance area. The River Corridor BRT will be operational in fall 2020.
FALL FUN – CDTA hosted its 5th annual Fall Festival at our administrative headquarters, opening our doors to the community and more than 500 area school children. Our property was transformed with pumpkins, scarecrows, hayrides and demonstrations from the Albany Police and Fire Departments, the New York State Police dive team, Albany Public Library along with other community partners and themed activities.
COMMUNITY MATTERS – CDTA is committed to the community, providing transportation for more than 100 events throughout the year. Our services make it possible for children, seniors and others to be active members of their community. Giving back to the community is an important way for CDTA to be an integral piece of the vitality and growth of the region.
BOARD LEADERSHIP – Jayme B. Lahut was elected to serve as Chairman of the Board of Directors Lahut, who lives in Niskayuna and represents Schenectady County, succeeds Georgeanna Nugent as chair. Lahut continues the forward thinking and progressive vision our Board of Directors has set for the organization. Board officers serve one-year terms and are elected by the peers. Lahut joined the Board in 2017. He is Executive Director of the Schenectady Metroplex Development Authority.