January 11, 2019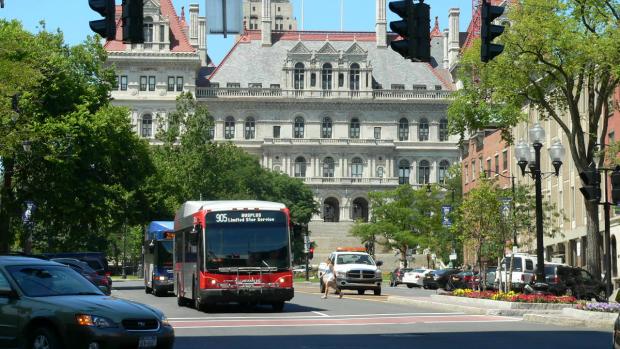 Connecting the Capital Region Community
The Capital District Transportation Authority continued its strong performance, connecting people to economic opportunity throughout 2018. On the heels of these accomplishments, we are looking forward to a busy and successful 2019, as CDTA continues to be involved in projects and initiatives that deepen our role as the region's mobility manager. The following is a look at some of CDTA's top projects and accomplishments in 2018.
UNIVERSAL ACCESS GOES MOBILE – CDTA's signature program continued to power transit services throughout the Capital Region. Our Universal Access partnerships resulted in more than 4.4 million rides taken as part of this regional program. More than 25% of the program partners have added CDPHP Cycle! to their transportation choices heading into 2019.  
DOWNTOWN CONNECTIONS – CDTA's network of Trolleys continued to grow and enhance connections throughout 2018. Schenectady's Electric City Trolley supported the first full summer of Mohawk Harbor events, the Saratoga Summer Trolley once again provided nearly 20,000 trips and Albany's Capital City Trolley became a year-round service. These services, which are supported by a network of partners, focus on enhancing the region's assets, designed to drive tourism and improve mobility in downtown centers. 
RIDESHARE MEETS TRANSIT – The Board of Directors continued to steer CDTA into the 21st century economy with approval of a micro transit pilot. Micro transit offers a flexible routing and trip scheduling platform for customers. A CDTA shared-use vehicle will provide a hybrid service between fixed route and ridesharing with pilot details forthcoming in spring 2019.
LARK/WASHINGTON TRANSIT IMPROVEMENTS - Along with several of partners, we celebrated the completion of the Lark and Washington Transit Improvement Project in July. The cooperative project focuses on an area of Washington Avenue with the centerpiece at the Lark & Washington intersection and a new BusPlus station. Several improvements were made for CDTA customers along with improved traffic flow and safer pedestrian crossings.
CDPHP CYCLE! PEDALS TO THE TOP – Season two of CDPHP Cycle! exceeded expectations with more than 4,000 new members joining this year and nearly 25,000 trips taken throughout the region. Cycle! connects people to work and play, providing a healthy mode of transportation. The expansion to 350 bicycles, 80 stations, the introduction of themed unicorn bikes and more than 2 million calories burned has the Capital Region ready for Season three in Spring 2019.
IT'S ELECTRIC – The CDTA Board of Directors recently approved the purchase of four electric buses, which will kick-start our efforts to electrify transit in the Capital Region. Electric bus technology is at the forefront of initiatives for many transit agencies across the country. CDTA will be the first property in upstate New York to implement this technology. Our pilot program will begin in summer 2019.
NEW TRANSIT TECH - With the Navigator program off and running, CDTA turned to its on-street operations for the next wave of transit technology. A new state-of-the-art command center opened with improved communication and access for more accurate customer information and more efficient operations. It also provides a 21st century work-space for our transportation professionals that monitor operations each day.
NEW CONTRACT– CDTA's Board of Directors approved a new three-year contract for our unionized workforce in December. The agreement between CDTA and the Amalgamated Transit Union Local 1321 improves wages and benefits and provides oversight regarding work assignments and service quality. Nearly 600 employees are covered by the contract, which runs until June 2021.
PINK OUT – CDTA partnered with the American Cancer Society to raise awareness and funding for Breast Cancer Awareness month. CDTA painted two buses pink to bring attention to the cause during October. Our employees are a major contributor to the success of the campaign, making it a showcase event for CDTA. We also provided transportation for the Making Strides walk in Albany's Washington Park which draws nearly 20,000 walkers.
FALL STEAM AHEAD – CDTA hosted its annual Fall Festival at our administrative headquarters, opening our doors to the community and more than 500 area school children. Our property was transformed with pumpkins, scarecrows, hayrides and demonstrations from the Albany Police and Fire Departments, the New York State Police dive team and the Albany County Sheriff's Department along with other themed activities.
COMMUNITY MATTERS – CDTA is committed to the community, providing transportation for more than 100 events throughout the year. Our services make it possible for children, seniors and others to be active members of their community. Giving back to the community is an important way for CDTA to be an integral cog in the vitality and growth of the region.
FUN IN THE SUN – Working with Rensselaer County and the City of Troy, we partnered with the Troy Boys and Girls Club to provide daily service to Grafton State Park. This service provided club members and city residents with connections to summer fun at Grafton Lake and park. The partnership resulted in high level of service and delivered guaranteed ridership for CDTA.  
NATIONAL STAGE – Long-time CDTA Board member and former Board Chairman, David M. Stackrow, Sr. was elected as Chairman of the American Public Transportation Association Board of Directors in September. Stackrow is leading more than 1,500 APTA members that represent bus, rail, paratransit and other organizations that move people throughout North America. Stackrow was appointed to the CDTA Board in 1995 and is currently the longest tenured member in company history.
BOARD LEADERSHIP - Georgeanna M. Nugent of Saratoga Springs was elected to serve as Chairwoman of the Board of Directors. Nugent has been an active member of the Board helping to shape the innovative changes that have taken place at CDTA over the last several years. Nugent, who was appointed to the CDTA Board in 2009 is active in her community, is an avid horse racing fan, and is a member of the NYRA Board of Directors.