January 06, 2023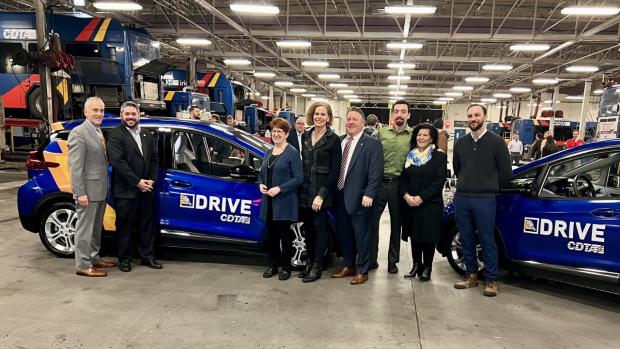 Reservations for zero emission vehicles open on January 6
ALBANY, NY (January 6, 2023) The Capital District Transportation Authority (CDTA) has officially launched DRIVE carsharing in the Capital Region. DRIVE carsharing offers a network of zero-emission vehicles 24 hours a day, seven days a week to customers. Beginning January 6, individuals 21 years or older with a valid driver's license and clean driving record will be able to a make reservation online or by downloading the MioCar mobile app from the Apple or Google Play Store. DRIVE is the latest installment in CDTA's expanding sustainable mobility offerings, joining fixed route service, STAR, CDPHP Cycle! and FLEX On Demand,
"Mobility is evolving, and customers are focusing more and more on sustainability, affordability and convenience when making their transportation decisions," said CDTA CEO Carm Basile. "We have seen demand for alternative options through ridership numbers in DRIVE's pilot program and the success of our sustainable mobility offerings. Whether it is a weekend trip, a drive to the grocery store or commuting to work, DRIVE is here to get you where you need to be while reducing your carbon footprint. CDTA will continue to think creatively and imagine innovative transportation solutions for the region as we look towards a more sustainable future."
In March 2022, CDTA announced its latest mobility concept, DRIVE, the transportation system's flagship electric car sharing service. CDTA conducted a three-month pilot program earlier this year and will be taking a phased approach for the program's rollout, beginning with six initial locations in Albany County. Additional locations and upcoming phases will correspond with customer demand and regional charging infrastructure.
Phase One Locations:
Albany Public Library (Delaware Avenue Branch, 331 Delaware Avenue)

Maria College (parking lot off New Scotland Avenue entrance, Albany)

St. Vincent de Paul Parish (900 Madison Avenue, Albany)

Cohoes BRT Station (65 Remsen Street, Cohoes)

Lark/Washington BRT Station (143 Washington Avenue, near the Albany Public Library Washington Avenue Branch)

Albany County Department of Mental Health parking lot (175 Green Street)
Customers can book a vehicle anytime for $5 per hour along with a one-time $20 application fee. Insurance, vehicle maintenance and roadside assistance are included in the hourly rate along with 150 miles of driving before customers accrue a $0.35 per additional mile charge. Payments will be with credit, debit, or prepaid card. Vehicles are to be returned to their home location at the end of a rental and plugged in for charging using the provided charge card.
Assemblymember John T. McDonald III, RPh said, "CDTA's DRIVE Program will provide Capital Region residents access to a convenient car share service that is reliable, affordable, and environmentally friendly. I am very appreciative of the partners who have helped make this possible and the staff who have worked hard to develop this program."
"CDTA continues to reinvent the wheel when it comes to offering flexible public transit options for Capital Region residents," said Assemblymember Patricia Fahy. "Through continued innovation, CDTA's new ridesharing initiative DRIVE will further expand and diversify the wide array of transit options offered to CDTA riders, while use of zero-emission vehicles cements the transit authority's commitment to environmental sustainability and climate action. I commend CDTA for its continued service to our broader community and look forward to working with them to continue building stronger, more walkable and accessible communities throughout the Capital Region."
"This is an exciting step forward as we invest in two of my top priorities: Electric vehicles and equity. I'm proud that Albany County could provide the EV charging infrastructure for the DRIVE program at our Health and Mental Health Departments in the South End, ensuring that this historically underserved Environmental Justice area has greater access to convenient transportation options, but without the added carbon emissions," said Albany County Executive Daniel P. McCoy. "CDTA shares our vision for a greener and more sustainable future, and I'm thrilled to continue our partnership on the road ahead."
Albany Mayor Kathy Sheehan said, "Albany is a city that prides itself on being home to a wide variety of transportation options, and CDTA DRIVE is yet another example of what is possible when you have a transportation partner committed to expanding options for our residents. Whether it is riding a bus, renting a bike, or borrowing a zero-emission vehicle, Carm Basile and his team at CDTA are working every day to make transportation more convenient for our residents, and I commend them for adding five CDTA DRIVE locations across Albany."
"I would like to thank CDTA for choosing to partner with Cohoes, a New York State designated Disadvantaged Community and Environmental Justice area, that is uniquely positioned to benefit from transportation alternatives like DRIVE," said Cohoes Mayor William Keeler. "The DRIVE carsharing program is a positive way for Cohoes to advance our goals of fostering sustainability and providing affordable, accessible services for our residents and visitors."
"The Albany Parking Authority is excited to work with our partners once again at CDTA and we are proud to have helped bring the DRIVE program to the City of Albany. The Parking Authority is committed to expanding public facing EV infrastructure and transportation alternatives throughout the City of Albany and DRIVE is a key piece in achieving this goal and we look forward to this program's growth." said Matt Peter Executive Director of the Albany Parking Authority.
"CDTA is leading the way in offering DRIVE within a range of equitable transit services. Cities and transit agencies have been talking about 'Mobility Hubs' for a decade, but CDTA is really doing it. We're honored to be a part of their Team," said Mobility Development Group CEO Creighton Randall.
For more information about DRIVE, visit https://drivecdta.org/