June 11, 2021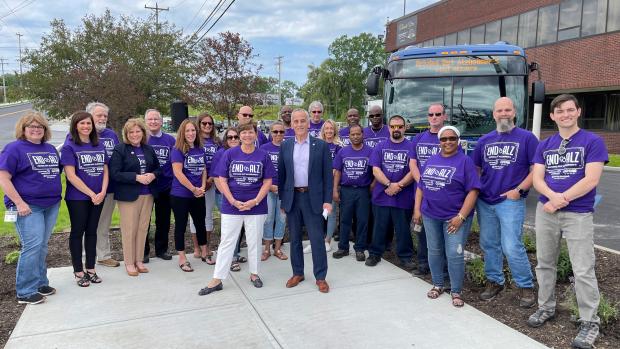 CDTA to Help Raise Awareness and Recognize June as Alzheimer's and Brain Awareness Month
 ALBANY, NY (June 11, 2021) The Alzheimer's Association, Northeastern New York chapter is teaming up with the Capital District Transportation Authority (CDTA) for the "Driving Out Alzheimer's" campaign. From June 11 – June 18, CDTA bus operators, technicians and administrative staff will "go purple" to recognize June as Alzheimer's and Brain Awareness Month.
"We are grateful for this partnership with the CDTA to not only raise awareness of this devastating disease in our community, but to remind those living with Alzheimer's and their caregivers that they are not alone, and we are here to help," said Alzheimer's Association, Northeastern New York Executive Director Beth Smith-Boivin. "We'd also like to thank Home Instead Senior Care for their support in underwriting the T-shirts. While our aim is to help anyone personally affected by this disease, we are planning to offer CDTA staff free educational programs to recognize the warning signs of Alzheimer's in the near future. We believe having a baseline understanding of this disease and the behaviors associated may help bus operators who encounter an individual who becomes disoriented or lost on a trip."
CDTA employees will wear End Alz purple T-shirts and the CDTA fleet of buses will include digital headway signs and on-board infotainment screens directing those living with Alzheimer's and other dementias, as well as their caregivers, to alz.org. Additionally, 20 bus shelters across Albany, Schenectady, Rensselaer and Saratoga counties will remind Alzheimer's and dementia caregivers of local Alzheimer's Association services.
"We are happy to partner with the Alzheimer's Association on their Driving Out Alzheimer's Campaign," said CDTA CEO Carm Basile. "CDTA employees are always excited and enthusiastic to get behind causes in our community. At our core, CDTA connects the communities we serve and there is no better way to show that then being involved in Capital Region initiatives like this one."
An estimated 6.2 million Americans are living with Alzheimer's disease, including 410,000 New Yorkers. Additionally, there are more than 11 million family members and friends providing care to people with Alzheimer's or other dementias.
The Alzheimer's Association, Northeastern New York chapter offers free virtual education programs year-round to help those living with Alzheimer's or another dementia, as well as their caregivers. Topics in the Summer Caregiver Connection Series include the importance of early detection, understanding Alzheimer's and atypical dementias, legal and financial planning, and healthy living for your brain and body with tips from the latest research. Each virtual education program is approximately one hour and allows the audience to ask questions and engage with others going through the journey online. Participants have the option of joining virtually via Zoom or through a toll-free number. Individuals do not need to participate in every program. Participation is free and registration can take place by phone at 518.675.7214 or alz.org/CRF.
In addition to the virtual education classes, the Alzheimer's Association's 24/7 Helpline (800.272.3900) offers around-the-clock support for caregivers and families impacted by Alzheimer's and all dementia.