June 14, 2022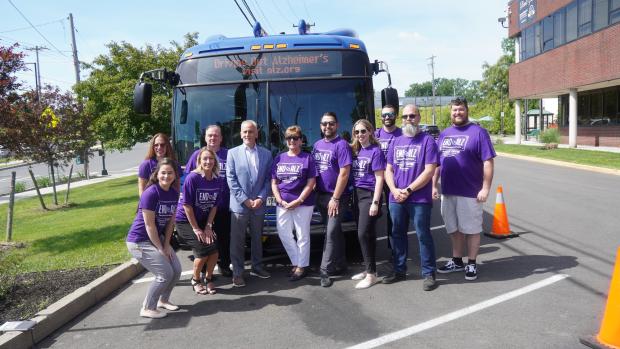 CDTA and The Alzheimer's Association, Northeastern New York Chapter Team up for "Driving Out Alzheimer's" Campaign
ALBANY, NY (June 14, 2022) The Capital District Transportation Authority (CDTA) and the Alzheimer's Association, Northeastern New York Chapter are teaming up for the "Driving Out Alzheimers" campaign.
June is Alzheimer's and Brain Awareness month and to help raise awareness, from June 14 to 17, CDTA bus operators, technicians and administrative staff will "go purple" by wearing "End Alz" shirts. The CDTA fleet of buses will also include digital headway signs and on-board infotainment screens directing people to www.alz.org. We want to remind those living with Alzheimer's and their caregivers they're not alone and there are resources for them.
More than 6 million Americans are living with Alzheimer's, including 410,000 New Yorkers. In 2020, the COVID-19 pandemic contributed to a 17 percent increase in Alzheimer's and Dementia deaths. The Alzheimer's Association, Northeastern New York Chapter offers free virtual education programs year-round to help those living with Alzheimer's or another dementia, as well as their caregivers. CDTA is proud to get behind this cause in our community.
In addition to the virtual education classes, the Alzheimer's Association's 24/7 Helpline (800.272.3900) offers around-the-clock support for caregivers and families impacted by Alzheimer's and all dementia.