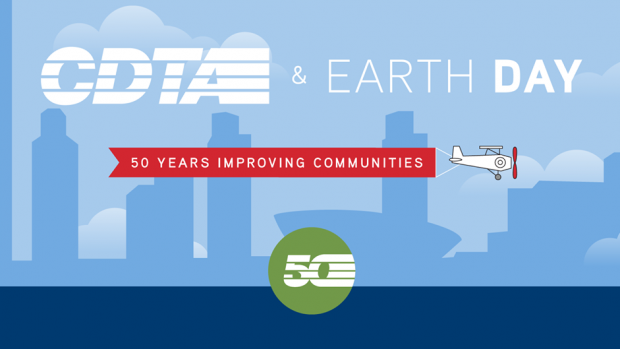 April 21, 2020
Golden Anniversary Highlights 50 Years of Making Greener Communities
ALBANY, NY (April 21, 2020) CDTA and Earth Day are sharing a major milestone this year. Both are turning 50! On April 22, Earth Day will celebrate its golden anniversary and CDTA will follow in August.
Over the last 50 years CDTA has been working everyday to help create a greener and more sustainable Capital Region. From new electric buses to microtransit service to a regional bike share program, CDTA offers a number of ways to green your commute.
CDTA Green Efforts At-a-Glance:
Electric Buses: CDTA unveiled 4 electric buses in January. These buses meet CDTA's goals to reduce the region's carbon footprint. The New Flyer Xcelsior CHARGE 40-foot buses will eliminate between up to 175 tons of greenhouse gas emissions annually, which supports CDTA's mission to improve accessibility and mobility. This will also help the state reach its goal of transitioning to 100% renewable energy by 2040.
Hybrid Buses: CDTA operates 77 hybrid-electric buses across its four-county service area, representing nearly 25% of the regular route fleet. These vehicles get at least 50% more mileage than regular diesel vehicles.
FLEX: CDTA rolled out a new way to get around the Capital Region in February. FLEX is a new mobility option, operating in Colonie and Guilderland that allows customers to use an app and request a ride, just like rideshare.
CDPHP Cycle!: CDTA and CDPHP launched the Capital Region's firs bike share program, CDPHP Cycle! in 2017. Cycle! finished its third season with record-breaking ridership, more than 41,000 trips were taken in Albany, Cohoes, Schenectady, Troy, and Saratoga Springs. Contributing to significant ridership gains in season three was the introduction of CDPHP Cycle! Access agreements with colleges and businesses across the Capital Region. With RPI and UAlbany adding CDPHP Cycle! Access to their campus communities in 2019, ridership in Albany and Troy soared to more than 33,000.
Bus Washes: Our bus washes may run blue, but they save a whole lot of green. CDTA reduces water consumption, saving tens of thousands of gallons of portable water each year, through a reclamation system installed at bus washers in each of its three divisions. The system captures the majority of the water used to wash buses, reclaims it, filters the dirt and uses it for the next bus.
Additional efficiency improvements: Fully-automatic high-speed garage doors in the Albany division, high efficiency electric motors, chillers, boilers, heaters, night setback thermostats, and solar electric panels round out CDTA's robust sustainable efforts. Many projects were supported through partnerships along with National Grid and NYSERDA grants.
Over the last 50 years, CDTA has grown into an organization with 700 employees, a budget of more than $90 million and is serving approximately 16.5 million customers annually. It has also grown its fleet to 300 buses and vehicles, which travel 10.2 million miles annually on 50 different routes.
CDTA has proven itself to be more than just a bus company, as it has developed several programs and initiatives to not only benefit its traditional riders, but also the greater Capital Region.
CDTA will celebrate its 50th Anniversary on August 1, 2020.
Additional Files