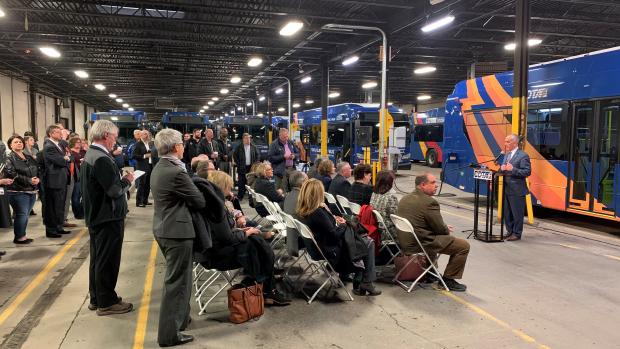 January 10, 2020
Four Buses Hit Capital Region Streets as Part of Pilot Program
ALBANY, NY (January 10, 2020) - CDTA started a new and progressive engine today on the first battery electric powered bus in Upstate New York. CDTA is rolling out four electric buses to test the technology and charging infrastructure for zero emission buses.
CDTA will put the electric buses it purchased from New Flyer of America into service as part of a pilot program. The transportation authority will monitor the range, charging timelines, electricity usage and performance of the vehicles throughout its route network as it looks to expand in the future.
"We take pride in being a leader in innovation," said CDTA Chief Executive Officer Carm Basile. "These buses meet CDTA's goals to reduce the region's carbon footprint. They are part of a progressive platform for clean energy being advanced by Governor Andrew M. Cuomo. These are exciting times and CDTA continues to be at the forefront of progress in New York State."
"Our Board leads the organization with a progressive vision to bring new services to the Capital Region that will make our region and people more connected than ever before," said CDTA Board Chairman Jayme Lahut. "Adding electric buses to our fleet is just one way we are staying current with the changing landscape of our business not just here at home but across the country."
Under the pilot, the buses will be rotated throughout the service area to ensure that they operate in all types of conditions. CDTA is using money from a federal grant that allowed it to invest in battery electric bus technology and the associated support equipment. The buses will not only produce zero emissions but will also be quieter and are expected to yield lower operating costs than both diesel and natural gas buses. Customer and employee's reaction to the vehicles will be included in the data sets that will be collected and analyzed as part of the pilot operation.
Julie Tighe, President of the New York League of Conservation Voters, said, "The CDTA's leadership in rethinking public transit is evident again today with the roll out of its first four electric buses. These vehicles are the first step toward a 100% zero emission fleet and will have benefits for both local air quality and the global fight against climate change. Today's achievement illustrates the importance of environmental leadership at our transit agencies and continued public investment in clean transportation."
New Flyer's Xcelsior CHARGE 40-foot buses will eliminate between up to 175 tons of greenhouse gas emissions annually, which supports CDTA's mission to improve accessibility and mobility. This will also help the state reach its goal of transitioning to 100% renewable energy by 2040.
"New Flyer is thrilled to celebrate CDTA's launch of the first battery electric transit buses in upstate New York," said Chris Stoddart, President, New Flyer. "We are proud to support the transition to zero-emission with buses, technology, and infrastructure solutions that help CDTA achieve its mission to improve mobility. With the adoption of zero-emission buses, CDTA is enhancing accessibility, reducing the region's carbon footprint, and advancing infrastructure to meet the mobility needs in Albany and the surrounding communities."
CDTA installed four Siemens direct current depot chargers, at its 110 Watervliet Avenue facility. High efficiency LED lighting was installed in each of the charging stations to enhance safety measures. CDTA worked with National Grid and Sage Engineering to design appropriate upgrades of the electrical capacity at CDTA headquarters. Kasselman Electric was awarded a contract to make sure CDTA has the necessary electrical upgrades to support the buses.
Laurie Poltynski, Regional Executive Director for National Grid said, "We know the transition to electric vehicles can be daunting for many fleet owners, especially when it comes to navigating the charging infrastructure and deployment. As the utility we are committed to helping our customers overcome that barrier to EV adoption. The Virtual Lab with CDTA gives us the opportunity to explore this process and work hand-in-hand with our customer as they make the transition to cleaner fuels. All of this would not be possible without the forward-thinking of partners like CDTA and New York State."
Each charger weighs 5,200 pounds and contains 20 times the amount of charging capacity compared to most common electric vehicle chargers. They also have a built-in website that tracks the electric energy that is transferred to the 42 batteries contained in each bus.
Each bus costs $900,000, each charger costs $121,000. Training and tools needed for maintenance cost close to $200,000, bringing the total cost of the pilot project to $3.9 million.
Much of this was paid for through grants, including a $950,000 in federal money and $250,000 from the New York State Legislature (via Assemblywoman Fahy). Approximately $1.4 million from a 2016 settlement with Volkswagen will be directed towards the project. CDTA is using $1.3 million from its vehicle replacement reserve to complete the project funding.
"With more electric vehicles on the road than ever before, our Capital Region has much to gain from embracing a transition to a cleaner, more sustainable transportation system," Congressman Tonko said. "Not only will this investment reduce carbon pollution and protect our air, water and environment, these developments support good jobs and a stronger, more competitive economy here. I look forward to working with CDTA to ensure our region continues to be a leader in building the most useful, efficient, and healthy transit program possible."
Senator Neil D. Breslin said, "CDTA continues to be on the cutting edge of public transportation, and this latest development, all-electric buses, is a prime example."
"CDTA leads Upstate NY when it comes to reducing transportation sector carbon emissions and 'electrifying' regional public transportation," said Assemblymember Patricia Fahy. "As a prime cosponsor of the state's Climate Leadership and Community Protection Act, I commend CDTA for helping New York meet what are the nation's most ambitious energy goals and emissions targets. CDTA is again establishing a new standard for transit authorities across the state and region when it comes to being an environmental steward and simultaneously improving accessibility, service, and ridership."
Assemblymember John T. McDonald III said, "I am proud to join the Capital District Transportation Authority today for the unveiling of their new electric buses. These buses will help achieve emissions and air quality targets by reducing energy consumption, waste, and pollution. Thank you to CDTA for continuing to foster innovation and new technologies to improve sustainable public transportation for the Capital Region."
Additional Images