April 13, 2021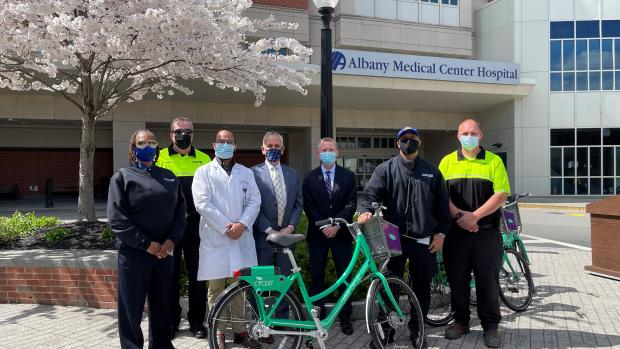 Albany Med Partnership has Increased Mobility Options for Frontline Workers Throughout the Pandemic
ALBANY, NY (April 13, 2021) The Capital District Transportation Authority (CDTA) and Albany Medical Center today recognized the contributions of essential workers and the partnership between the two organizations. The past year has proven the vital role transportation plays in providing access to essential goods and services. These two mainstays of the Capital Region worked closely together throughout the pandemic to ensure essential care and services were provided to the community.
"I am proud of the strong partnership between CDTA and Albany Medical Center." said Carm Basile, Chief Executive Officer of CDTA. "CDTA employees work tirelessly to provide critical connections to essential services that keep our region moving forward. Over the last year, making sure doctors, nurses, students, and staff got to work every day to keep our community safe was more important than ever. Whether they took the bus or rode a CDPHP Cycle! bike, having multiple mobility options to choose from is what makes our region grow and go. Thank you to Albany Med for being a strong partner and highlighting what can be done when we work together as a region."
"This partnership has helped remove transportation barriers and provide our employees a safe and reliable way to get to work, thereby helping us to provide our critical services to the community," said Dennis P. McKenna, M.D., president and CEO of Albany Med. "Outside of work, the CDPHP Cycle! bike program provides a healthy option for our employees and students to get around town and is congruent with our mission to improve the health of our community. We are extraordinarily grateful to CDTA for this important partnership."
Over the last year that partnership has become even more important, as CDTA and Albany Med have delivered essential services to the community to keep the Capital Region moving throughout the COVID-19 pandemic. The partnership between CDTA and Albany Med has been strengthened by an expanded Universal Access agreement in 2019 that includes free access for all Albany Med employees and students to ride buses and CDPHP Cycle!, now in its fifth year, with just a swipe of their ID badge.
From September 2020 to current, Albany Med has produced more than 100,000 rides on CDTA buses, or around 20,000 rides per month. Pre-covid numbers were around 30,000 rides per month. CDPHP Cycle! access is proving to be just as productive with nearly 5,000 rides taken during last year's abbreviated season, which ran from June 2020 to November 2020. CDPHP Cycle! season five kicked-off on April 5, 2021.
To keep employees and customer safe, CDTA has joined the American Public Transportation Association's (APTA) "Health and Safety Commitments Program," the public transportation industry's overarching pledge to passengers that public transit systems are taking all the necessary measures to operate safely as the nation recovers from the COVID-19 pandemic. 
In February 2021, CDTA began to install a commercial grade air purification system that uses Photohydroionization® Cell (PHI-Cell®) technology to clean the air on their fleet. The purifiers will be installed in a phased approach over the next several weeks on all buses and will work alongside proper social distancing, sanitization, protective barriers, and masks.
###