February 28, 2019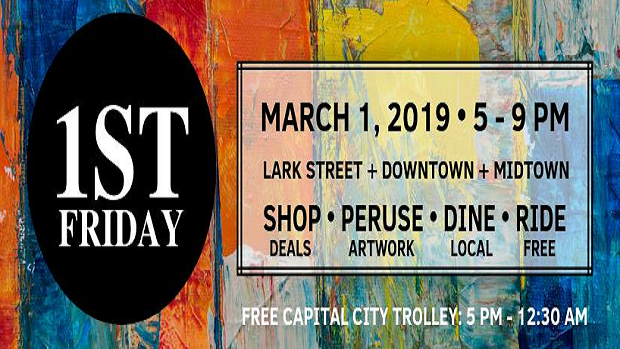 Free CDTA Capital City Trolley Connects Community to Arts and Entertainment
First Friday in Albany returns this week! Join us Friday, March 1, for another #TrolleyGoodTime in Downtown Albany and Lark Street! There will be no shortage of deals on food and beverages, paired with tons of music and art! 
Stay warm on the FREE Capital City Trolley, running from 5 p.m. - 12:30 a.m and snap a pic while riding using #trolleygoodtime to receive a Capital Craft Beverage Trail 2019 passport book! These limited edition passports bring you to a variety of local businesses across the region! Full details on the Capital City Trolley can be found at www.cdta.org
Remember to download the Cityfinder app for real-time arrivals and stop locations. 
About 1st Friday: Founded in 2006, 1st Friday aims to introduce a wider audience to the unique vitality of Albany's artists and venues. 1st Friday promotes interest in the arts by making them available to all, thereby strengthening the arts community in Albany. The monthly event has previously been focused in the Lark Street area, but with the Capital City Trolley service offering easy connectivity and better access to free parking, more Downtown destinations have been added to February's lineup. This special Trolley Good Timeedition of 1st Friday will offer a sampling of Albany's wide variety of talented artists and independent businesses.