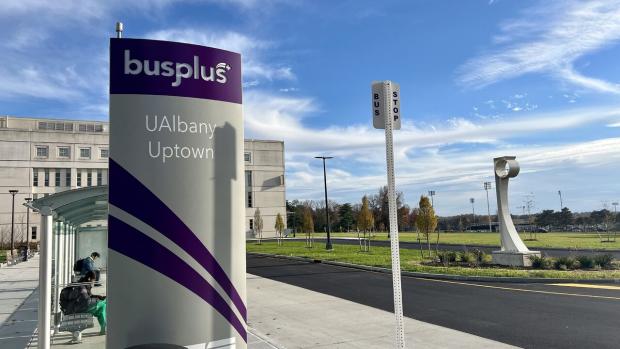 November 16, 2023
Introductory Phase on the Purple Line BRT ends on Sunday, November 19
ALBANY, NY (November 16, 2023) The Capital District Transportation Authority (CDTA) wants to remind customers that free fares for the Bus Rapid Transit (BRT) Purple Line will end after Sunday, November 19, 2023. Customers were able to access CDTA's third BRT, the Purple Line, for free during the initial introductory phase of the new service.
Starting Monday, November 20, 2023, customers will be asked to pay the regular CDTA BRT fare, which is $2.00 per ride for customers with cash, and for customers using their Navigator smart card or mobile app, the fare is $1.30 per ride.
Route 910 of the BusPlus Purple Line runs along the Washington and Western Avenue corridors. It connects customers with downtown Albany, the College of St. Rose, Harriman Campus, University at Albany (the uptown and downtown campuses), and Crossgates Mall in Guilderland. The Purple Line also connects to the existing Red and Blue BRT Lines, giving fast, reliable, and improved access to destinations along the corridor.
CDTA kicked off its Purple Line service on Sunday, November 5. This is the third BRT in the system completing 40 miles of BRT in the Capital Region. The second BRT line, the Blue Line was introduced in November of 2020 and the inaugural line, the Red Line made its debut in April of 2011.
To learn more about the Purple Line and our other BRT lines, head to https://www.cdta.org/brt