February 24, 2021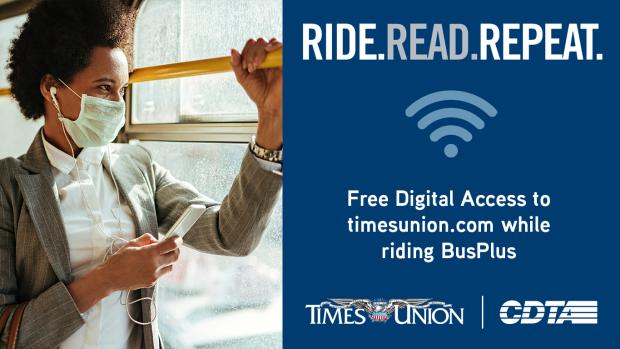 BusPlus To Offer Complimentary Onboard Digital Access to Timesunion.com
ALBANY, NY (February 24, 2021) CDTA has partnered with the Times Union to give customers free, unlimited digital access to Times Union news while riding on any of CDTA's BusPlus services. The program, which starts March 1, 2021, will be available on the new BRT Blue Line connecting Hudson River communities and the BRT Red line that operates on New York Route 5.
"We are excited to partner with the Times Union and offer BusPlus customers complimentary access to one of the region's top news organizations," said Jonathan Scherzer, Director of Marketing. "Connecting the Capital Region with a diverse group of benefits across our innovative mobility options is something we always look at while improving customer experience."
Customers can enjoy free access to Timesunion.com by logging onto the website via CDTA's onboard Wi-Fi while riding any BRT service. BusPlus customers also have access to new on-vehicle charging ports along with a variety of improvements including new stations, new sidewalks with heated sections near waiting areas, new crosswalks and upgraded signal systems.
"The Times Union has a long-standing marketing partnership with CDTA, and we're excited to provide their customers with access to our award-winning journalism on timesunion.com whenever they ride BusPlus," said Todd Peterson VP of Marketing and Circulation. "We are proud to provide the Capital Region's best entertainment and news site while enjoying their ride."
CDTA's BRT service network will connect the three busiest travel corridors in the Capital Region, which account for nearly 10 million annual boardings. When complete, the system will contain 40 miles of BusPlus service that expects to transport more than 10% of the Capital Region's workforce. The Red Line began operating as Upstate New York's first BRT line back in 2011, the Blue Line debuted in November and a Purple Line is expected to roll out by 2023.