November 25, 2019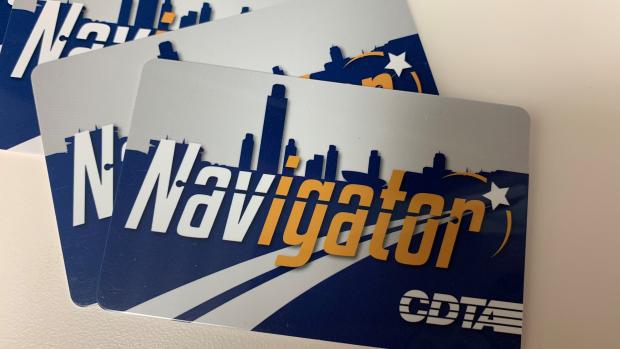 Complimentary Cards Available through February 2020
The Capital District Transportation Authority (CDTA) is urging customers to take advantage of the complimentary Navigator smart card program as the Holiday season gets into full swing. CDTA customers can pick up their free Navigator card at any of the more than 50 retail outlets or by visiting www.cdta.org.
Navigator customers have taken nearly 10 million trips since the program launched in January 2017. More than 100,000 cards have been distributed across the Capital Region along with nearly 17,000 customers using mobile ticketing.
As the program moves into its third year, CDTA will institute a nominal fee of $2.00 for new, lost or stolen Navigator cards beginning on February 17, 2020.  
Navigator offers customers a more secure payment system that makes riding CDTA more convenient and calculates the "best fare" when they ride. When registered, Navigator cards are 100% replaceable and funds can be recovered.
Balance protection is only available to customers who registered their card to a Navigator account. Customers can create an account and register your card online at www.cdta.org, in person at our Customer Service Center (85 Watervliet Avenue, Albany NY 12206), or by calling (518) 482-8822. CDTA will replace lost, stolen, or damaged Navigator cards and can transfer any active remaining balance as part of balance protection.
By creating an account and registering your Navigator card, you not only receive balance protection but also access to AutoBuy, which automatically reloads your card, along with the ability to access your order and ridership history.
Half Fare Navigator cards will also include the nominal fee. A new Navigator photo ID smartcard can be obtained at four issuing location throughout the Capital Region. Half Fare Navigator cards are automatically registered. For information about issuing locations and replacement options, visit www.cdta.org/half-fare, or call (518) 482-8822.
Smartphone users can always download our Navigator mobile app at no cost and purchase fares using a credit or debit card. Once you have downloaded the app, just select your fare and scan it on the farebox right from your phone.
Navigator fare products are available at the CDTA Sales Office at 85 Watervliet Avenue, Albany and at many retail locations across the Capital Region. For more detailed information about CDTA's Navigator visit www.cdta.org