July 12, 2018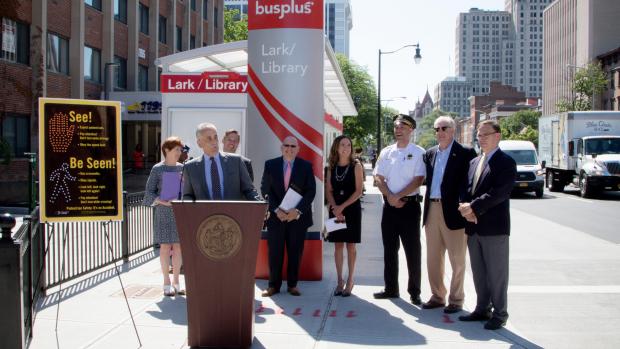 New Bus Plus Station Opens; Features Enhancements for All Modes of Travel
ALBANY, NY (July 12, 2018) The Capital District Transportation Authority (CDTA) and several of their partners celebrated the completion of the Lark and Washington Transit Improvement Project at a news conference Thursday morning. This cooperative project focuses on a three-block area of Washington Avenue, centered on the Lark & Washington intersection and the new Lark/Library BusPlus station, where many improvements were made for customers waiting for buses and walking to buses. The project also focuses on improving traffic operations and safe pedestrian crossings and movement.
"We are proud to complete this project that will have a major positive impact on customers and the community around it," said Georgeanna Nugent, CDTA Board Chairwoman. "Customers have better facilities, traffic will flow more efficiently, our bus routes will be streamlined, and pedestrians will be able to navigate through the intersection safely and confidently."
The new Bus Rapid Transit (BRT) station and major customer waiting area is now located in front of the Albany Public Library. New crosswalks and pedestrian traffic signals were installed on Washington Avenue to improve the walkability of the surrounding area. Travel lanes were realigned to result in more efficient and safer operations for all drivers. Similar and related improvements were made on Lark Street and along Washington Avenue between Dove Street and Sprague Place.
Ten bus routes pass through the Lark and Washington intersection every day. It is one of the highest volume stops in the CDTA system, with nearly 2,000 boardings every day. However, its high amount of transfer activity makes it the busiest in the CDTA system. Transfer activities occur when customer get off one bus route to transfer to another bus route to complete their trips. This results in a higher level of pedestrian activity as customers move between stops, making the corresponding improvements even more important.
"Safety is our top priority, and this completed project reinforces that commitment," said New York State Department of Transportation Acting Commissioner Paul A. Karas. "The new transit improvements at the Lark Street and Washington Avenue intersection will boost safety and mobility for all users — riders, pedestrians, cyclists and motorists — while also enhancing travel along the downtown Washington Avenue corridor. Governor Cuomo and the New York State Department of Transportation are pleased to work with our partners at CDTA, and we congratulate them on the completion of a great project."
"CDTA's enhancements to the Washington Avenue and Lark Street intersection and surrounding thoroughfares will help improve the safety and walkability of this widely-used corridor," said Albany Mayor Kathy Sheehan. "Thank you to CDTA and the New York State Department of Transportation for their continued dedication to improving this important component of the City of Albany's public transportation system."
This project is part of a larger vision that CDTA has for the Washington-Western Corridor. Building on the success of its Bus Rapid Transit style service along Route 5 between Albany and Schenectady, two more BRT lines are in development. BRT on Route 5 known as the BusPlus Red Line has resulted in a 25% increase in ridership along the corridor, showing the impact of limited stop, faster and more reliable service along busy and densely populated corridors.
The "Purple Line" will run from downtown Albany to the University at Albany and Crossgates Mall along the Washington-Western corridor and the "Blue Line" which will run between Albany, Menands, Watervliet, Troy, Cohoes, and Waterford along the River Corridor (Route 4 & 32). Purple Line buses will stop at the Lark/Library station.
"Albany Public Library is pleased that the improvements to the Lark & Washington intersection, including the new Lark/Library station, will enhance the safety of people riding the bus, walking, biking, and driving to our flagship branch library on Washington Avenue," said Scott C. Jarzombek, Albany Public Library Executive Director. "We have already seen how the new BRT station and waiting area, along with road and sidewalk improvements, are benefitting riders, pedestrians, and drivers."
The total cost of this project was $1.6 million. CDTA received $770,000 in funding through a competitive New York State Department of Transportation (NYSDOT) safety grant that helped to complete the Washington Avenue Transit Improvement project. Additional funding was provided by the regional Transportation Improvement Program (TIP) administered by the Capital District Transportation Committee (CDTC).
CDTA is constructing both BRT lines incrementally and they are expected to be operational in the next 2-3 years. Infrastructure and safety improvements are being implemented so that some of the benefits of the projects can be advanced ahead of BRT operations. The Washington Avenue Transit Improvement project is the first phase of the Purple Line. The first phase of the Blue Line recently completed construction and included similar transit and pedestrian improvements at eight BusPlus station locations in Albany, Troy, and Cohoes.