March 18, 2019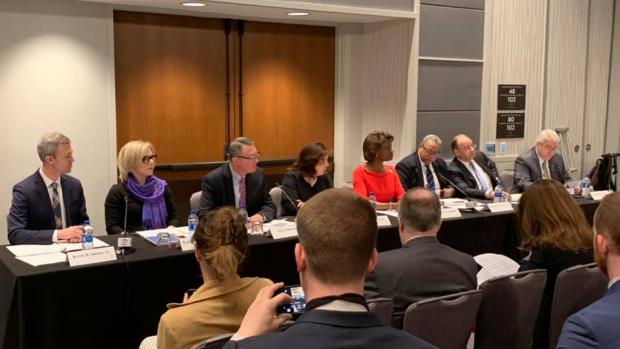 Public Transportation Infrastructure: Critically Needed Investments of at Least $232 Billion
WASHINGTON (March 18, 2019) With Congress looking to move an infrastructure bill forward this spring, the American Public Transportation Association (APTA) today released new research identifying at least $232 billion in critical public transportation investments. The findings were unveiled as part of a report that was released for the first time at APTA's annual legislative conference, shedding light on significant industry needs.
"Bipartisan efforts to enact an infrastructure investment bill will provide a critically important opportunity to address the nation's growing infrastructure needs," said APTA President and CEO Paul P. Skoutelas.  "APTA is ready to work with Congress and the Administration to enact legislation that includes robust public transportation investment."
APTA analyzed the impact of investment in public transportation, including the resulting long-term productivity enhancements, and found that $232 billion spent over 10 years would stimulate a 4-to-1 return of $928 billion in economic activity over the next 20 years.
"We're pleased to see that both Congress and President Trump have said that an infrastructure bill is a major priority," said David M. Stackrow, Immediate Past Chairman of the CDTA Board of Directors and APTA Chair. "Significant investment in public transportation will strengthen our communities and advance a better quality of life for residents."
The report includes APTA member-specific data on regional and local public transportation projects in the U.S., from those in need of major repair or maintenance to new priorities including terminal constructions and electric bus fleets. Members identified more than $5 billion in cutting-edge electrification projects that would modernize systems nationwide.
APTA's research figures come from three categories.  First are projects in the Capital Investment Grants pipeline, which are aimed at expanding public transit investment. The second category, called Priority Projects, covers an array of projects from construction of transit center and bus garages to expanding the nation's electric bus fleet, to security improvements, and park and rides. The third category is of state of good repair projects that include capital, safety and operating repairs and upgrades, and replacements of buses and trains. According to the most U.S. Department of Transportation, there is a $90 billion backlog of state of good repair needs.
The full report can be obtained by going to:
https://www.apta.com/resources/reportsandpublications/Documents/Infrastructure_Projects_Brief.pdf  
Below are comments from public transit leaders who participated in the March 18 press conference.
"In addition to being the backbone of public transportation in one of the nation's largest cities, the Chicago Transit Authority plays a vital role in our community's continuing economic growth," said CTA President Dorval R. Carter, Jr. "The passage of a federal infrastructure bill is critical for CTA to continue implementing the kinds of large, multi-year projects that stimulate the economy, create stable, good-paying jobs for residents and prepare our city for the demands of the future."
"In Iowa, public transit infrastructure is essential to both urban and rural communities," says Elizabeth Presutti, General Manager of Des Moines Area Regional Transit Authority. "With an unemployment rate of 2.4 percent, transit is critical to employment and economic growth. We need the federal government to provide a reliable source of funding to meet the needs of the future."
"Infrastructure investment consistently produces big financial returns," said Gary Thomas, president and executive director of Dallas Area Rapid Transit (DART). "Every major DART project has proven that. This is the way to move our economy forward."
"The importance of the Silicon Valley economy to the region, state of California and the world cannot be overstated," says Nuria Fernandez, general manager and chief executive officer of Santa Clara Valley Transportation Authority. "The need for strong transportation infrastructure is critical to maintain worker productivity and on-time delivery of products and services."
"With ridership increasing and growing demand for our services, funding is needed now more than ever to increase our capacity and take riders where they need to go," said Katharine Kelleman, chief executive officer of Port Authority of Allegheny County. "Failure to meet this demand would be detrimental to growth and investment in our region."
"Transit is critical to the economic development of Maryland and the region," said Kevin Quinn, chief executive officer and administrator of the Maryland Transit Administration. "An investment in infrastructure is an investment in the quality of life of all Americans."