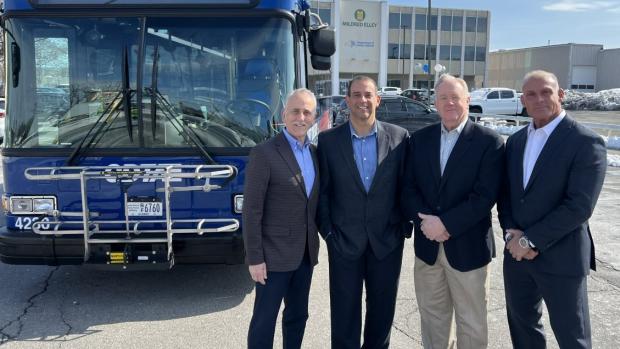 March 16, 2023
New partnership will connect Mildred Elley students with training and career opportunities 
ALBANY, NY (March 16, 2023) The Capital District Transportation Authority (CDTA) is proud to announce Mildred Elley has joined its Universal Access program.
"We are thrilled to welcome Mildred Elley to our growing network of Universal Access partners," said CDTA CEO Carm Basile. "We look forward to our partnership that will connect students with critical career opportunities and to meet the needs of employers in today's job market. It will also allow more people interested in studying at Mildred Elley the opportunity to do so without worrying about transportation. Students can now focus solely on their training."
Mildred Elley provides quality career education and technical training to allow students of diverse educational, cultural, and personal backgrounds to become successful in an ever-changing global economy. Its Albany Campus is located on Central Avenue, where there is easy access to many bus routes. With this Universal Access partnership, students and staff at Mildred Elley will have unlimited ridership within CDTA's service network. Students and staff can use any of CDTA's transit services by swiping their CDTA Navigator card. The partnership will provide local, express, and commuter transit service throughout the Capital Region.
"Mildred Elley is delighted to partner with CDTA to offer this highly valued service to our students and staff. This new opportunity offers easy access to a wide variety of routes and schedules and provides our students with a significant cost-saving transportation option to meet their educational needs. We look forward to working closely with CDTA to ensure the success of this most important initiative," said Mildred Elley Albany Campus President David Reid.
Currently, nearly 30 Capital Region colleges and businesses are part of CDTA's Universal Access program. Through the program, schools and businesses can provide convenient measures to reduce travel expenses, stressful commutes, and parking costs. These solutions further enhance the academic experience and work environment for those participating.