April 10, 2023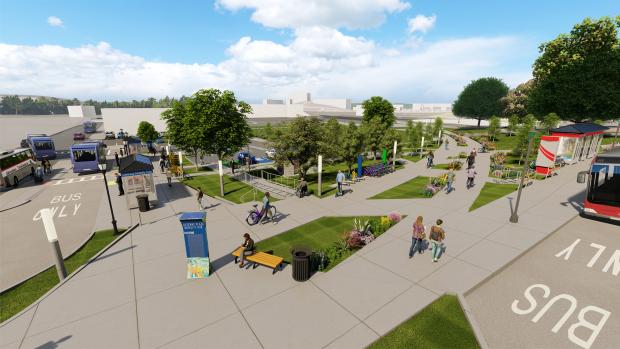 CDTA and Partners are proud to begin work on first-of-its-kind transit center
ALBANY, NY (April 10, 2023) The Capital District Transportation Authority (CDTA) and Schenectady County Metroplex Development Authority have broken ground on the Capital Region's first mobility center. The groundbreaking comes one year after United States Senator Chuck Schumer, CDTA, and community partners from the City of Schenectady announced plans for the Gateway Mobility Center. Senator Schumer secured federal funding to make the project happen.
The Gateway Mobility Center will be located adjacent to Gateway Plaza Park and will further the city's redevelopment and beautification goals. The mobility center will complement the development of the lower State Street area, which has seen new apartments, restaurants, and other commercial development. Access to ten transit routes including CDTA's Bus Plus Red Line BRT and CDTA's other mobility services, including DRIVE and CDPHP Cycle!, will make the area more attractive and reachable to the community.
Other improvements include installation of new sidewalks with snow and ice melt systems, upgraded traffic signals, a bus-only turn off, and a new enclosed waiting area. The project also includes improvements to Gateway Plaza Park, with new lighting, seating, and landscaping. Adjacent parking spaces and EV charging stations will also be added.
Construction dates the public should be aware of:
April 3 to July 28

– South Church Street will be closed.

June 5 to June 30

– Bus pad will be installed on State Street, traffic will be reduced to one lane. Bus stops along State Street will be moved to alternative locations.

June 26 to June 30

– State Street will be paved; traffic will be reduced to one lane.
Anyone needing more information about this project, go to https://projects.cdta.org/red-line
##