September 28, 2017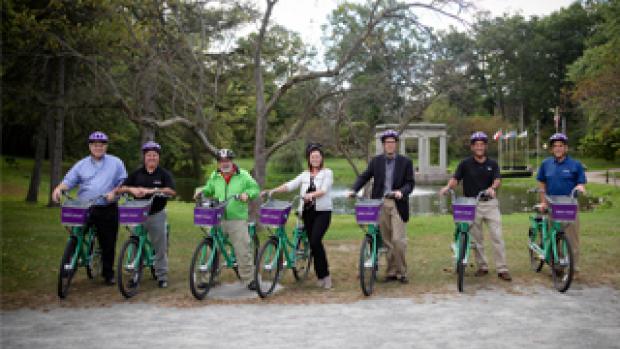 More than 2,000 members have taken 7,615 rides since launch on July 27
ALBANY, NY (September 28, 2017) - The Capital District Transportation Authority (CDTA) and CDPHP are excited to announce that during the first two months of operation, CDPHP Cycle! has been used by 2,028 members for 7,615 trips in Albany, Schenectady, Troy, and Saratoga Springs. The goal for all of 2017 was to enroll 2,000 members, and that mark was reached with two months remaining in the season.
The milestone was celebrated at an event on Thursday in Congress Park in Saratoga Springs, where CDTA Board Chairman, David M. Stackrow, CDTA CEO Carm Basile, CDPHP Executive Vice President and Chief Marketing Officer Brian O'Grady, and Mayor of Saratoga Springs Joanne Yepsen, took a ceremonial bike ride through the park, encouraging residents to take advantage of the beautiful weather and the two months remaining in the cycling season.

Trips in Albany are primarily being used to commute, while in Saratoga Springs, users are renting the bikes mainly for recreational purposes. Earlier this month, as college students returned to campus, ridership saw an additional spike.
Of the 7,615 rides, a total of 793,292 calories were burned and there was a carbon reduction of 17,488.49 pounds.
Ridership numbers for each of the communities are as follows:
Albany: 5,274
Saratoga Springs: 1,121
Schenectady: 456
Troy: 764

Nine of the top 10 busiest hubs were in Albany, with Hudson River Parkway – Corning Preserve leading the way. The Saratoga Spa State Park was the top hub in Saratoga Springs; Proctors Theatre (Jay and State Streets) was most popular in Schenectady; and the corner of Hill Street and Liberty Street, adjacent to Prospect Park, was the top hub in the Collar City.
Some other interesting stats include:
Average length of trip: 33 minutes
Average distance: 2.8 miles
Longest distance traveled: 24 miles
"We're excited that CDPHP Cycle! has had such a positive impact on our community in its first two months," said CDPHP Executive Vice President and Chief Marketing Officer Brian O'Grady. "While we look forward to expanding the program in 2018, residents still have two months to take advantage of this healthy and innovative mode of transportation!"
"Simply put, CDPHP Cycle! has been a hit since Day One," said CDTA Board Chairman David M. Stackrow. "We've never seen so much enthusiasm for a new service, and the numbers prove that point. We will continue to closely monitor usage and find ways to make the program even more useful and convenient."
Riders may purchase a membership or load a pay-as-you-go account by registering online or downloading the CDPHP Cycle! mobile app. You pay for what you cycle, which comes out to just $.08 per minute with an hourly pass. For more information, including additional rental fees, rack locations, and more, visit www.cdphpcycle.com.
The CDPHP Cycle! season is expected to end on November 30, 2017, and resume on April 1, 2018, with 160 additional bikes in circulation and even more bike stations.