January 12, 2017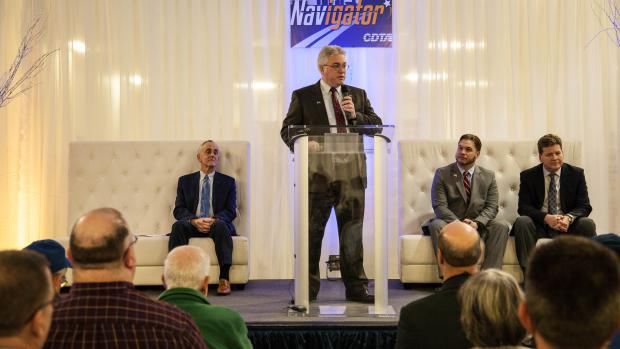 Smartcard Opens Wider Menu of Travel Options for the Capital Region
ALBANY, NY (January 12, 2017) The Capital Region Transportation Authority (CDTA) launched its smartcard prepayment system Navigator at a news conference held at its headquarters in Albany. Navigator is the new way to pay for all CDTA services and continues to showcase the mobility leader as a regional asset.
"Over the past decade, CDTA's Board of Directors has set forth a vision for CDTA to be innovative, inclusive, and to serve as an industry leader," said CDTA Board Chairman David M. Stackrow. "Today's announcement highlights one of the key projects in that that vision. This is more than just flipping the switch on Navigator, it's about opening up a wider menu of travel options for the region."
CDTA's Navigator is a prepayment system that includes a durable plastic smartcard and eventually mobile ticketing, where customers can load fares directly onto their smartphone. Both of these options will provide increased reliability and security to customers. Navigator will streamline CDTA's current fare products by providing balance protection, auto-load capability, and an easier interface for online ordering.
"This is an exciting time for CDTA," said Carm Basile, CDTA Chief Executive Officer. "Launching Navigator is the culmination of a vision from our Board of Directors, executed by our team of dedicated employees. Navigator will not only change the way people ride in the Capital Region, it will change the way people think about transit."
CDTA has been piloting Navigator for the last 12 months, engaging nearly 2,000 Capital Region riders. Many of the piloters are current riders and include employees of businesses that participate in CDTA's Universal Access program.
"Albany Public Library is honored to partner with CDTA to sell Navigator passes at our libraries," said Scott Jarzombek, Albany Public Library Executive Director. "All seven of our branch libraries are on CDTA bus lines, which is a great benefit to our patrons. Allowing them to buy and replenish Navigator cards at any of our Albany Public Library branches simply makes life easier for the bus-riding public."
Navigator is part of CDTA's vision for a bigger and better system, which includes better bus services, bike sharing, oversight of local taxi services, and building transit centers in Troy, Schenectady and Albany. CDTA is also working towards its goal of 40 miles of Bus Rapid Transit services by introducing two new transit lines and adding more articulated buses, new downtown shuttle services, and more universal access partnerships.
"Our economy is in one of its most exciting periods of growth in decades, with nearly $30 billion in investment over the last ten years," said Mark Eagan, Capital Region Chamber Chief Executive Officer. "As the Capital Region grows, so does the demand of mobility options. CDTA is a regional leader, focused on bringing innovative and expanded mobility options to our area, positioning it for continued growth and success."
To learn more about Navigator visit our website at www.cdta.org, choose Navigator.