March 13, 2018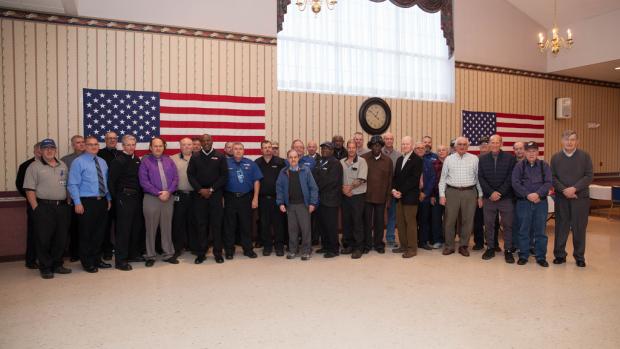 All Honorably Discharged Veterans to Receive Half-Fare Benefits
ALBANY, NY (November 14, 2017) The Capital District Transportation Authority (CDTA) announced today at its annual Veteran appreciation event, a new initiative that will allow all honorably discharged service members the opportunity to qualify for half-fare pricing on all CDTA fixed-route services.
"We are proud to offer this new benefit to our country's service members," said David M. Stackrow, CDTA Board Chairman. "Half-fare on all CDTA buses will offer a real-world solution for more mobility to fit their active lifestyle and connect them to work, shopping, and entertainment in our region. It is also CDTA's way of saying Thank You to the men and women who have served our country."
CDTA is working with the New York State Division of Veterans' Affairs to coordinate that all qualified Veterans in the area have access to the program. To qualify for the benefit, Veterans will be required to provide a DD-214 Form, Discharge Papers, Separation Documents, Veterans Health Identification Card, Veterans Identification Card, NYS Driver's License with official Veterans marking, or a Return the Favor Card.
"We are very fortunate to partner with CDTA to bring to fruition such a beneficial program for the Veterans of the Capital Region." said General Counsel of the New York State Division of Veterans' Affairs, Jonathan Fishbein. "We look forward to collaborating with CDTA on future projects to continue delivering quality services to those who served the nation and our Capital Region community."
"I want to commend the CDTA Board and Carm for implementing this new program to provide half fare pricing for veterans," said Albany County Executive Daniel P. McCoy. "This is a way to honor them for their service and assist those with ready access to reliable transportation. This is another great initiative from one of the top transportation authorities in the nation."
CDTA's new Navigator half-fare ID cards are available at the CDTA Sales Center at 85 Watervliet Avenue, Albany while additional half fare issuing sites at the Saratoga Springs Train Station, the Schenectady County Department for Social Services (by appointment) and CDTA's Troy Division. For more information on the program, contact CDTA's customer service center, visit www.cdta.org, or follow the conversation on social media through Facebook, Twitter, Instagram, and LinkedIn.