June 01, 2018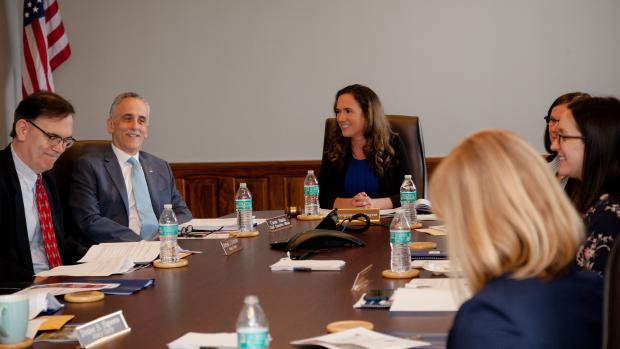 Year Ahead Includes Innovation, Mobility Choices, and Economic Opportunity
ALBANY, NY (April 25, 2018)The Capital District Transportation Authority (CDTA) announced that Georgeanna M. Nugent of Saratoga Springs has been elected to serve as Chairwoman of the Board of Directors. Nugent has been an active member of the Board helping to steer and shape the innovative change that has taken place at CDTA over the last several years.
"Thank you to my predecessor Dave Stackrow for his leadership over the past two decades.Dave's commitment to CDTA is unmatched and we are a better organization because of him," said CDTA Board Chairwoman Georgeanna M. Nugent. "Our Board of Directors is a visionary team that is continuously looking for proactive ways to increase ridership and revenue and to build on CDTA's solid foundation. This includes advancing our regional bike-share program, CDPHP Cycle!, further integrating our smart card and mobile ticketing system, Navigator, and continuing to develop new and innovative ways to make our service customer-focused and easy to use."
Under Nugent's leadership CDTA will continue to advance the company's profile as a regional mobility leader, driver of economic opportunity, and best place to work.
The full slate of officers for fiscal year 2018-2019 is:
Chairperson – Georgeanna M. Nugent
Vice-Chairperson – Michael J. Criscione
Secretary – Mark Schaeffer
Treasurer – Jayme B. Lahut
Nugent was appointed to the CDTA Board in May 2009. In addition to being Chairwoman, she is a member of the Board Operations Committee and the Strategic and Operational Planning Committee. 
Nugent is Business Development Manager at Consigli Construction NY, LLC. She is a 2008 graduate of Leadership Saratoga, served one year on the Saratoga Springs Design Review Commission, and is actively involved with educational grant and scholarship programs for students in the STEM field. Ms. Nugent is a NYS Assembly appointment to the New York Racing Association (NYRA) Board of Directors and serves on the Management Development and Compensation, Nominations and Governance, and Planning Committees. 
Ms. Nugent holds a Master of Science degree in environmental science and engineering from the Colorado School of Mines and bachelor's degrees in environmental science and geology from SUNY Plattsburgh. She resides with her family in Saratoga Springs and is an avid horse racing fan.
The other members of the CDTA Board include; David M. Stackrow who represents Rensselaer County, Denise A. Figueroa who represents Albany County, Jaclyn Falotico who represents Schenectady County, and Corey Bixby who represents Labor.