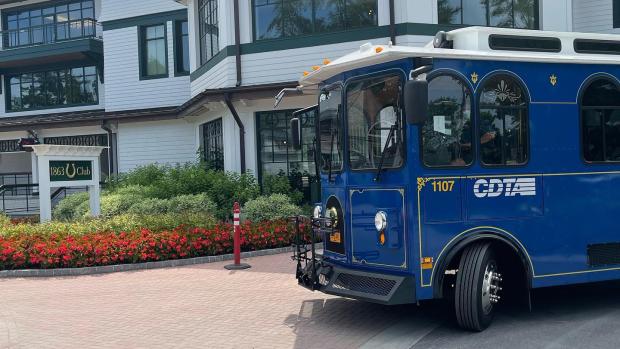 May 12, 2023
Saratoga Race Course will offer fan-favorite package featuring breakfast at the track and tour of area breeding farms with expanded days and partners
SARATOGA SPRINGS, NY (May 12, 2023) The New York Racing Association, Inc. (NYRA) today announced plans to significantly enhance opportunities for fans to experience the Saratoga Breakfast and Breeding Farm Tour package, which debuted to sold out crowds each Friday in its inaugural season.
Expanded due to its overwhelming popularity in 2022, the Saratoga Breakfast and Breeding Farm Tour will this year be offered every Wednesday, Thursday and Friday during the Saratoga meet and will now feature two active thoroughbred breeding farms. The tours will accommodate up to 52 guests each day beginning Friday, July 14, and will conclude on Friday, September 1.
This year the tours will be offered every Wednesday at Song Hill Thoroughbreds, 290 County Road 75 in Mechanicville, NY; and every Thursday and Friday at Old Tavern Farm, 45 Brown Road, in nearby Stillwater.
The all-inclusive fan experience package, presented by the Capital District Transportation Authority (CDTA), features:
Buffet breakfast at Saratoga Race Course;

Opportunity to watch world-class thoroughbreds during morning training;

Round-trip, trolley ride from Saratoga Race Course to Song Hill Thoroughbreds on Wednesdays or to Old Tavern Farm on Thursdays and Fridays;

60 to 90-minute guided walking tour of an active thoroughbred breeding farm;

Admission to Saratoga Race Course.
The Saratoga Breakfast and Breeding Farm package is $85 for adults and $35 for children 12 and under. Tickets are available on a first-come, first-served basis and may be purchased at NYRA.com.
"Last year's inaugural Saratoga Breakfast and Breeding Farm package was such a huge success that we have expanded it to three days per week and added a second thoroughbred breeding farm to accommodate demand," said NYRA Vice President of Communications Pat McKenna. "The opportunity for fans to go behind-the-scenes to experience this side of the sport clearly resonated beyond all expectations. We thank Old Tavern Farm for helping us launch this innovative program last summer and welcome them back alongside our newest partner, Song Hill Thoroughbreds, in addition to our presenting sponsor, CDTA."
The itinerary begins with Breakfast at Saratoga, featuring a buffet at Saratoga Race Course between 7 a.m. and 9:30 a.m. with a backdrop of world-class thoroughbreds participating in morning training. Guests may arrive for breakfast at any time during these hours.
At 9:45 a.m., fans will board one of two CDTA trolleys at the Clubhouse entrance and embark on a picturesque 15-minute ride to Old Tavern Farm or 20-minute excursion to Song Hill Thoroughbreds. Upon arrival, guests will be led on an experiential walking tour by the farm's owners and expert staff. Fans will return to Saratoga Race Course at approximately 11:45 a.m., well before racing gets underway at approximately 1 p.m.
Song Hill Thoroughbreds, owned by Jim and Tina Bond, was established in 2005. The expansive 100-acre horse farm is home to mares, foals, weanlings, yearlings and retired thoroughbreds. Features include an all-encompassing, sophisticated facility that is detail oriented, meticulously clean and was designed with the horses' comfort in mind. It operates alongside Bond Racing Stables and is focused on breeding, sales and turning out champion thoroughbreds.
"We are truly honored to be part of the Saratoga Breakfast and Breeding Farm program as it expands in just its second year of operation," said Song Hill Thoroughbreds Chief Operating Officer and Managing Partner Tina Bond, who is likewise vice president of the New York Thoroughbred Horsemen's Association. "There is something magical about visiting the horses at their earliest stages of life and gaining a better understanding of how they are loved and nurtured as well as prepared for the prospect of a racing career. We look forward to educating and welcoming horse lovers of all ages to Song Hill Thoroughbreds this summer."
Old Tavern Farm is a private boutique thoroughbred-breeding operation in Saratoga Springs that was founded in 2016 by Walt and Michelle Borisenok. Located just a short distance from historic Saratoga Race Course, Old Tavern Farm has been developed into a state-of-the-art facility focused on the breeding and sale of thoroughbreds to compete at the highest levels of the sport. The name Old Tavern was derived from the 19th century tavern that once graced the property.
"We are honored to once again be part of this exciting program after launching it last year in partnership with NYRA and the New York Thoroughbred Breeders," said Old Tavern Farm founder and owner Walt Borisenok. "Throughout the inaugural season, we had the opportunity to meet hundreds of fans who gained a new appreciation for what takes place on a working thoroughbred breeding farm. We look forward to welcoming new and returning guests who will walk away with a greater appreciation for how thoroughbred racing and breeding support our local economy."
"The Saratoga Breakfast and Breeding Farm Tour was a fantastic new addition to the Saratoga experience in 2022, highlighting the importance of the New York State breeding industry," said Najja Thompson, Executive Director of New York Thoroughbred Breeders, Inc. "We were thrilled with its inaugural success that spawned this expansion for the 2023 season and extend our thanks to Old Tavern Farm and Song Hill Thoroughbreds, two of the leading breeding farms in our state. We also want to thank our partners at NYRA for spearheading this extraordinary opportunity."
The Saratoga Breakfast and Breeding Farm Tour is presented by CDTA. In addition to transporting guests to and from Old Tavern Farm and Song Hill Thoroughbreds aboard a pair of classic trolleys, CDTA is the presenting sponsor of Breakfast at Saratoga, which is offered daily at Saratoga Race Course from 7 a.m. to 9:30 a.m. (excludes Travers Day).
"We are excited to continue our partnership with NYRA and enhance this year's experience alongside Old Tavern Farm and Song Hill Thoroughbreds for the 2023 racing season," said CDTA's Director of Business Development, Jonathan Scherzer. "This experience is a great way to connect fans and visitors to the historic Saratoga Race Course and the rich history of horse racing. We are looking forward to welcoming everyone back on board our iconic trolley for an enjoyable 'Summer in Saratoga' experience."
Highlighted by the 154th edition of the Grade 1, $1.25 million Travers on August 26 and the Grade 1, $1 million Whitney on August 5, the 40-day summer meet will open on Thursday, July 13 and continue through Monday, September 4. Following the four-day opening weekend, racing will be conducted five days a week, Wednesdays through Sundays, apart from closing week, when the 2023 summer meet will conclude on Labor Day.